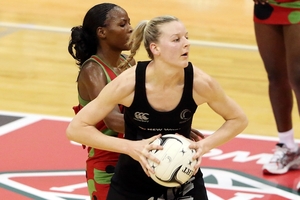 In terms of sending the Australian Diamonds a strong statement ahead of next year's Commonwealth Games, a 4-1 series loss didn't exactly convey the message they had hoped.
The Silver Ferns produced their worst run of results against their transtasman rivals in 15 years in the recent Constellation Cup. Yes, they were missing a few key players - notably at wing attack, where by the end of the series their sixth-choice player (Shannon Francois) was starting - but that cannot excuse their muddled performances.
It has left coach Waimarama Taumaunu with a long list of work-ons in the current series against Malawi, which continues today with the second test in Napier. While Malawi are unable to offer the same intense competition as Australia, the world No5 side provide an opportunity for the Ferns to set a few things right heading into the off-season.
1. Improve centre pass to score rates
It makes up half the game and it is an area in which the Ferns have been poor. It's the basic tenet of netball; with centre pass possession alternating every time a goal is scored. If a team can score off all of their centre passes, they win the game. So the Ferns have been devoting a lot of time to improving their conversion rate. They showed marginal improvement across the five games of the Australian series but they are still not reaching targets.
2. Get the ball to Irene van Dyk
As is often the case when the Ferns are not performing well, super shooter Irene van Dyk copped a lot of the blame for their malfunctioning attack. Van Dyk's volume was well down in the recent test series and, while she struggled against the close marking of Australian captain Laura Geitz, the Ferns' laboured through-court attack and inexperience at wing attack didn't help her cause. The New Zealand midcourt must re-discover how to get the most from their shooting superstar - and replacement Cathrine Latu. Taumaunu said she is hoping to see her players let the ball go into the shooting circle, and offer a lot more variety with their feeding so they are not putting the shooters under so much pressure.
3. Whittle down midcourt options
A combination of injuries, unavailability and poor form has seen the wing attack spot become Taumaunu's main headache over the past few years. Since Temepara Bailey (nee George) stepped down following the 2011 world championships, the Silver Ferns have trialled eight players in that position - Liana Leota, Camilla Lees, Laura Langman, Grace Rasmussen, Bailey Mes, Courtney Tairi, Anna Thompson and Francois. Next year Taumaunu will be hoping for a much more settled midcourt line-up, meaning she needs to start whittling down her options. With Lees expected back for the January tour to England and team management hoping Leota will also make herself available next year, there is little point in trialling more players at wing attack, particularly after Francois emerged as a strong back-up option.
4. Find a back-up wing defence
Traditionally an area of strength for New Zealand sides, a lack of depth in the defensive end (exacerbated by injury to Leana de Bruin) meant the Ferns were limited against Australia. Wing defence was a particular concern, with no obvious back-up to returning mother Joline Henry. Anna Harrison and Kayla Cullen are expected to re-enter the fray next season but neither are certainties to be fit for the Commonwealth Games. Cullen is coming back from a knee reconstruction and faces an especially tight turnaround to get back on court for the Mystics and return to top speed in time for the Games. Circle defender Katrina Grant was thrown the wing defence bib for Thursday night's opening test and made a decent go of it, but has a way to go to learn the subtleties of the position. Ferns newcomer Katarina Cooper is also expected to be given a run at wing defence over this series.
5. Play what's in front of them
At events like the Commonwealth Games and world championships, the Ferns encounter teams they don't know a great deal about. While these minnows don't present a challenge on the scoreboard, it challenges the players to adjust their game plan.
The seven who got a run against Malawi on Thursday night initially struggled with the different timing and approach of the world No5 side, with their links breaking down early on.
Taumaunu is expected to run with a different line-up in today's test and she will be watching closely to see how well the players are able to adjust to Malawi's unorthodox style.