The Kiwis turn to bulk to defend their World Cup title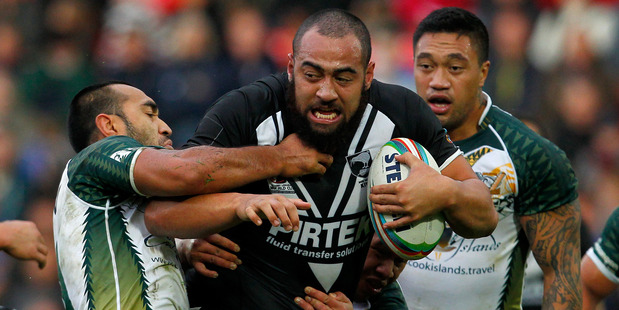 At high school, Sam Kasiano was "heaps" lighter. It's a relative concept, given he was still 110kg, but his sheer size is what stood out.
He's officially listed at 1.96m and 122kg but it's widely acknowledged you can add around 10kg to that, making him the biggest player in the NRL.
The size of the Kiwis forward pack is one of the features of the squad and it will play a significant role in their World Cup defence.
Once the likes of Jared Waerea-Hargreaves, himself heavier than ever, Sam Moa and Frank Pritchard have softened up opposition teams, Kasiano, Ben Matulino, the 110kg Jesse Bromwich, Frank-Paul Nu'uausala and Greg Eastwood will be pitched into the fray.
Contrast that with Australia, who have gone for more mobile forwards; the likes of Paul Gallen, Nate Myles, Sam Thaiday and Josh Papalii are likely to spend time in the engine room.
New Zealand coach Stephen Kearney has implemented a relatively simple game plan based on forward dominance, completing sets and low penalty and error counts.
"In the final of the last World Cup, our completion rate was 85 per cent and Australia's was 65 per cent," Kearney said recently.
"I reckon we won the penalty count that night. We scored tries off the back of building pressure.
"That's the game. It's not Australia's game.
"Australia are very good at it but I reckon if you ask any coach it would be the same - high completions, low penalties."
It will require the forwards to set the tone and it's something Kasiano does very well.
He doesn't fit the modern mould of front rowers, who tend to be tall, lean and athletic. Kasiano is two of those three things and he also has a very good engine for his size.
Amazingly, Dogzilla, as he has been referred to, is also one of the quickest forwards at the Bulldogs.
He had a relatively quiet NRL season by his standards in 2013 but last year was named Dally M Prop of the Year and registered near the top among front-rowers for offloads, linebreak assists and tackle breaks.
It's why Queensland and Australia chased him aggressively - he moved to Brisbane in his late teens - and they thought he had declared his intention to play for them before he pledged his allegiance to New Zealand with a letter of intent to the NZRL. He made his debut against the Kangaroos 12 months ago in his only international to date.
"It was annoying," the Auckland-born and raised Kasiano said of the tussle over his representative services.
"I was always going to choose the Kiwis. I don't know [why Queensland and Australia thought I would play for them]. I can't see myself in those jerseys."
It would have been a tough blow for the Kiwis it he had defected, given they lost fellow prop James Tamou, who was born in Palmerston North and in 2011 was part of New Zealand's Four Nations train-on squad, to Australia earlier in the year.
It might have had something to do with communication, which is not Kasiano's strength.
As expressive as he is on a field, bending defences backwards and dishing up offloads, he's quiet off it; it's rare for him to be found away from Bulldogs team-mate and good friend Frank Pritchard.
He's certainly not going to make a career out of after-dinner speaking.
"He doesn't say a great deal," Kearney says.
"I think it's because Frank has his arm up his jumper working him as a puppet."
The Kiwis will try to put on a show of strength against a physical Samoa outfit in their World Cup opener played overnight.
"We will have to stand our ground with them for 80 minutes," Kasiano says before adding, "I love that sort of stuff. We have some of the best props in the game.
"We will try to roll them through the middle and stop them doing it to us."
It's not the only thing Kasiano needs to stop.
"Watching what I eat is one of the hardest things," he admits.
"Especially over here with all the buffets."