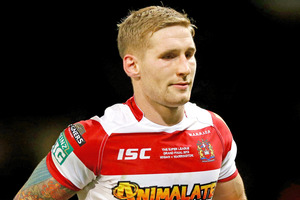 Sam Tomkins is probably under the most pressure to perform in this World Cup.
Everyone is claiming the underdog tag and deflecting as much attention away from themselves as possible. The Australian team management know that they will always be rated No1 in the world; they are the obvious favourites to win. The Kiwis have the profile with Sonny Bill Williams and are genuine contenders.
But unfortunately for Tomkins, every time his name is mentioned it carries the tag of 'most expensive rugby league player'. His every move will be scrutinised by not only the media, but a large number of Warriors fans, management and critics.
He has a massive reputation to live up to and, unless he scores a try in every game or conjures up try-scoring movements with every touch of the ball, he may enter New Zealand with that reputation dented. The Australian public is just as interested in this young man and will be hoping he lives up to the hype. They cannot believe that a non-Australian player is better than Johnathan Thurston, Billy Slater and Cooper Cronk.
It's impossible, they think. Is it really? It's not often that a player touted to be the best thing in the game carries an English passport and plays out of the UK.
The Warriors have placed a very large stake in the ground, paying a King's ransom for his services. They will be holding their breath to see if their prized possession delivers a performance to wipe away doubts some people may have.
Despite what some in New Zealand may think, there are some astute people within the Warriors and this young man is going to excite whenever he gets the ball. I have seen a couple of highlights packages and two full games and that is enough for me to say he will create opportunities from nothing and will light up the game.
He has similar ability to Slater when he streaked on to our screens. Billy excited everyone, improved year after year and re-designed the way fullbacks play. Tomkins has the potential to do the same.
Maybe I have just increased the expectation but his body language tells me enough; calm under pressure and a natural ability you can't teach. Who is the New Zealand equivalent to illustrate this natural ability? Stacey Jones; I can say no more.
By the time this is read, the English will have played favourites Australia and people may have a different view of this player. Opinions will always vary, but time will write the biography of Sam Tomkins.
A few years ago there were a number of intelligent people who thought Johnathan Thurston would never amount to anything.