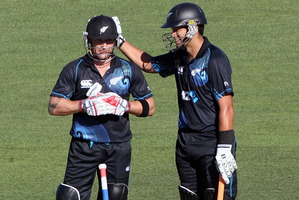 A philosophical decision has been made to rest New Zealand captain Brendon McCullum and senior batsman Ross Taylor for the limited-overs series in Sri Lanka.
The move, following hard on the final stage of the current tour of Bangladesh, is unlikely to be a one-off.
The main reason for the stand down is to get them ready for the arrival of West Indies at the end of November with some red ball, or first-class, cricket.
India arrive in the new year, finishing on February 18 before players head to the world T20, back in Bangladesh from March 16, with domestic obligations in between.
National selectors, coach Mike Hesson and Bruce Edgar, are keen to have more effective management of their leading players. "It's logical in a sense because these sportsmen play three formats," said national selection general manager Edgar.
"Take someone going to play test rugby, then sevens, then the ITM Cup. It doesn't really happen, so this is quite unique.
We don't want them totally worn out moving forward."
Resting players at carefully scheduled times is common among other nations. England left out key test players captain Alastair Cook, Jimmy Anderson, Graeme Swann, Stuart Broad and Ian Bell for their ODI and T20 series against Australia recently.
South Africa's great but ageing allrounder Jacques Kallis has been rested with the idea of having him around for the 2015 World Cup.
New Zealand's schedule is tight for the coming months.
After touring Bangladesh and Sri Lanka, the first test against the West Indies starts in Dunedin on December 3. There are then 37 days of home international cricket until the end of the Indian tour, followed by the world T20. McCullum and Taylor will be expected to play the lot.
"Philosophically, it does need to come in because there's so much cricket being played, so much travel," former test opener Edgar said. "There will be burn-out. It does have its demands and we don't want them to not be ready for events coming up," he added. Kane Williamson will captain New Zealand in Sri Lanka. He's the heir apparent and giving him a run in charge won't hurt his preparation for the big role further down the line.
Wellington wicketkeeper-batsman Luke Ronchi and experienced seamer Ian Butler will take McCullum and Taylor's places.
The upside is that the pair are firmly in the frame for short-form selection in the months ahead.
Does New Zealand have the quality in depth to afford to rest senior players like bigger cricket nations?
The way Edgar and Hesson see it, it's about assessing what the key events are and having the best players at optimum levels. If that means sitting out series they regard as less important in the overall picture, so be it.
McCullum is likely to play for the New Zealand XI against the West Indies in their tour opener in Christchurch from November 27.
Taylor is expected to play for Central Districts against Northern Districts in Hamilton, starting a day earlier to prepare them for the West Indies tests.