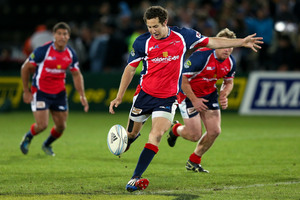 Progressively reduced from showpiece to sideshow, to development competition, the ITM Cup might not even be that any more.
Its future is assured in that it's impossible to envisage New Zealand rugby without a provincial competition. But how much commercial support it has in future, how much broadcast interest it commands and how much relevance it will hold could all be reduced.
Pining for the good old days is pointless and counter-productive. The professional age has a vastly different landscape - more layers, more top-level demands and thump, thump, provincial rugby has dropped two rungs on the ladder.
But the lament with the ITM Cup is not that it's no longer comparable with the golden age of full stadiums and All Black rivalries. It's that it's not comparable with its horribly reduced self of five years ago.
Who watches it these days? It's not a figure of speech to say no one is turning up at stadiums. Even avid, almost habitual rugby fans say the ITM Cup has become white noise in the household.
The odd game may enjoy a spike in audience but it really is the odd game. Sky may have to ask, come the next broadcast contract negotiation, whether the numbers are stacking up for them. The cost of blanket provincial coverage is high - seven games a week. And the returns?
Only Sky would know but if they pulled the pin on covering every ITM Cup would they see a mass cancellation of subscriptions?
There has previously been value in selling broadcast rights offshore, mainly to expat markets such as Australia and the UK. Maybe, given some of the dross they get served up over there, the ITM Cup remains in great demand. A highlight amidst relentlessly dull local content. Maybe. But even the not-so-discerning couldn't have helped but notice the quality of rugby has slipped and continues to slip.
With the odd exception, it's not been great this year. It wasn't up to much last year and it will be worthwhile examining the Super Rugby squads when they are revealed this week to see how many players could say they won contracts on the back of their provincial performances.
Even just a few years ago, Super Rugby sides left a handful of places open to see who emerged out of the ITM Cup. There would always be a few surprises - the emergence of a handful of young stars and the occasional old timer who finally came good. That sort of thing.
But that doesn't tend to happen now. With the exception of the Highlanders, most Super Rugby teams are believed to have had between 25-28 of their 32 players locked in before the ITM Cup began.
Super Rugby sides, now that they are more directly in control of the contracting process, are able to recruit and scout First XV players and age-grade reps. They have succession plans worked out and it's possible for players to jump from schoolboy rugby to Super Rugby with only a fleeting brush with the ITM Cup.
A few players still played their way out of the ITM Cup this year: Cardiff Vaega of Southland secured the 32nd and last spot at the Hurricanes, while Tasman first-five Marty Banks sneaked in as number 30. Liam Squire and James Lowe at Tasman may already have been on the Chiefs' radar but their form for the Makos clinched the deal.
In time, and it's probably not that far away, almost no one will need to perform in the ITM Cup to make Super Rugby. They may still play in the ITM Cup, but they will do so knowing their future has already been secured. What little edge there remains in that regard, will be scraped off to the point where provincial rugby really could become the new club rugby.
The future of the ITM Cup could be genuine amateurs playing for the love of the game; recreational athletes who run about with no desire to play at a higher level.
A bit dramatic? Possibly. But then who, 20 years ago, thought third-placed Auckland could play second-placed Canterbury in a critical encounter in front of barely 3000 people; or the final would be as low key as it was?