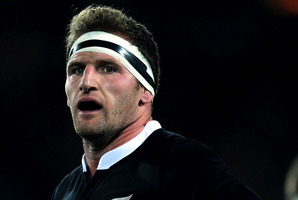 Richie McCaw fans: avert your eyes. Yesterday was Kieran Read's 28th birthday. The time could be right to gift him the permanent All Blacks captaincy.
The No8 has produced another sublime season. As the 66th All Blacks test captain, he has led New Zealand in seven victorious tests since meeting Italy in Rome last November. Significant foes such as South Africa, France and Australia have been conquered along the way.
Read's career is in the ascendancy. Bed him into the leadership full-time next year and it may give the All Blacks the best chance of charting new territory - a World Cup win away from home. Of his 58 tests, Read has started his last 45 at No8 (last playing blindside flanker in August 2009).
Having debuted in 2008, he does not know what it feels like to lose a World Cup.
His physical presence, athleticism and ball skills rank with the greatest All Blacks to have played in the position. All he needs to do now is work on his drop kick.
Any other rugby nation would sacrifice their fluffy mascots to have such a regal succession plan to McCaw. There's a Whineray-Lochore feel to it.
Can blind loyalty to McCaw be quelled? Never. A natural force field surrounds anyone who has led the All Blacks in 83 tests with a winning record of 88.55 per cent. This is the man who has been pummelled for 120 tests in one of the most physical positions in the game; the man who, on one foot, gave the rugby-loving population faith as his team regained the Webb Ellis Cup against mercurial France; the man who has become a synonym for courage in the national sporting lexicon. In essence, The Greatest All Black.
Yet, regardless of those talismanic qualities, McCaw will be under pressure to retain his fitness and form ahead of the likes of Sam Cane for the next World Cup. If ever there was a red flag to his future, it was the injuries he sustained post-sabbatical.
"No one is bigger than the game" is a cliche for a reason, even if parents start choosing your name for their newborns. McCaw obviously deserves his place but it will be one of the sternest - and possibly defining - moments of Steve Hansen's coaching reign as to how he deals with a player for whom he has unconditional respect. No New Zealand rugby fan wants to see another Bring Back Buck saga.
The Cane factor is omnipresent in this equation. Despite being just 21 and in McCaw's shadow, he has excelled under significant pressure this season to silence doubters.
Statistical evidence also suggests time is against McCaw. Some might say he'll simply tackle 'time' into touch or fend it in the face like it was Quade Cooper - but few openside flankers survive at peak performance beyond his current 32 years. He will be 34, going on 35, at the next World Cup.
Some examples: Michael Jones (56 caps) played his last test at No7 against France in November 1995, aged 30, before reverting to blindside for three years' further service. Australia's George Smith appeared at openside for the Wallabies against the Lions this year, eight days shy of his 33rd birthday. The last of his 111 tests before that was in November 2009, plus he'd already played seasons overseas or moved to the back of the scrum.
France's Jean-Pierre Rives (59 caps) retired at 31 and Scotland's Finlay Calder (37 caps) exited aged 34. Perhaps McCaw's best historical ally is England's Neil Back (71 caps) who represented the Lions against the All Blacks in 2005 aged 36. That was the only test he played after helping England win the 2003 World Cup final, aged 34.
McCaw dwarfs each of them for longevity but how long can he sustain the punishment? He will be writing a never-to-be-repeated rugby chapter if he leads the All Blacks to repeat 2015 glory. However, the safest odds might be a Read/McCaw/Cane combination with a 'C' affixed to the No8.