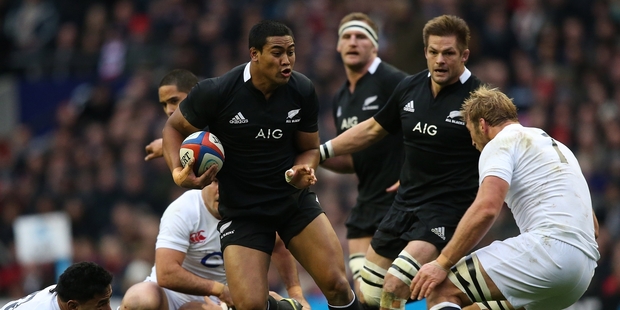 The All Blacks, should they win their next four tests, will become the first side in the professional age to post a perfect return in a calendar year.
On what they have produced so far in 2013, it isn't much of a stretch to see them doing it. But this time last year they looked just as capable of achieving the similarly impressive feat of going through undefeated. Their draw with Australia in the third Bledisloe Cup test felt like an aberration and it seemed they would romp through Europe with barely a scratch.
That was until they encountered a thunderously good performance by England who blitzed the breakdown, swamped the All Black ball carriers, read the play and spent 80 minutes at least one, if not two, steps ahead.
It was a sobering experience for the All Blacks. They learned they were not the side they thought they were. They learned that in the final third of the season, they had been stagnating. They had failed to develop and evolve their game - and others were able to catch up.
"England were able to test us last year and we discovered that our structures were a bit limited," says All Black coach Steve Hansen.
It was, almost, back to the drawing board and the conclusion was reached that the All Blacks were mainly a single-threat team.
Much of their attacking game was dependent on their running ability: their angles, pace, power, deviation and variation. They had athletes across the team who could find space with ball in hand. There was Daniel Carter, Ma'a Nonu, Julian Savea, Cory Jane, Israel Dagg, Kieran Read, Liam Messam and Richie McCaw.
That made the All Blacks dangerous: tough to beat. But they certainly weren't unbeatable, as England proved. Shut down the supply of quick ball as England did and the All Blacks didn't appear to have much else in the locker.
The All Blacks have several goals on their trip to Japan and Europe - which if they achieve, will go a long way towards helping them knock off the unbeaten calendar year.
They want to throw a few young blokes into leadership roles in Japan.
In Europe, it's about seeing if they can make their attacking game as effective as it has been so far this year. Up against bigger, set-piece orientated packs, will their smash and grab style of football work?
"We like to have what we call a triple-threat game so we can kick, run or pass and we are always looking up to see what the right options are," says openside flanker Sam Cane.
The biggest lesson from last year has been the need to hold something back.
By the time the All Blacks arrived at Twickenham in early December, their patterns were predictable.
Manu Tuilagi talked after the game that his crucial intercept try was the result of video analysis that had enabled him to correctly predict Read would pass whenever he was in the wide channels.
Hansen is acutely aware that France, England and Ireland will all have been poring over footage to try to pick patterns in the All Blacks.
They will be working out whether the All Blacks are as spontaneous as they look or actually heavily reliant on formulaic build-up work.
Whatever they determine, Hansen wants to render it redundant: "We don't want to be throwing the baby out with the baby water, but we do want to keep improving our attacking game and adding to it."
The additions are not easy to predict. There will be some new set moves. There may be, after the lung-bursting epics of Johannesburg and Dunedin, greater use of the boot and more variation in the kicking game. In a sense, the details don't matter. What's important is that the All Blacks have identified the need to keep advancing and that for all their excellence so far, it doesn't take much to be toppled.