Daniel Carter is in an unusual position, having to prove himself all over again, writes Gregor Paul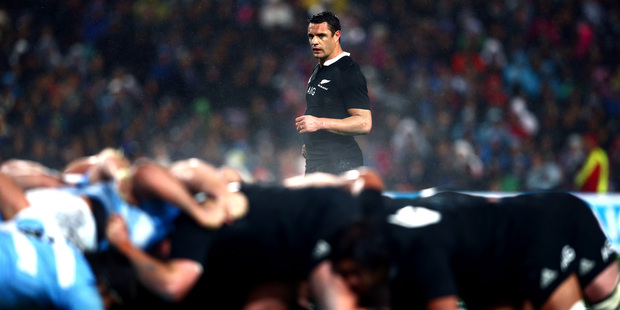 When negotiations began with the Japanese Rugby Union about the All Blacks playing a test in Tokyo, the first point made by the New Zealand Rugby Union was that Daniel Carter would not be playing.
The fact that Carter will now play in Tokyo pretty much sums up his season. Nothing has gone to plan and next week's test is no longer an opportunity for either Aaron Cruden or Beauden Barrett to stake their claim. It is a chance for Carter to begin the unusual process of re-asserting himself as the All Blacks' best first-five.
He's expected to play a half in Tokyo - enough time to find his rhythm, timing and flow after being forced out of action, yet again, for six weeks with a shoulder damaged in his famous collision with Bismarck du Plessis. He needs that time because the intention is for him to start against France and England in the following weeks.
But who would know with Carter these days whether that will actually happen? His luck has been out for what seems like an age now.
Since the World Cup he's only played 12 of the last 28 tests.
It's a minor miracle if he starts back-to-back tests. He's only managed that once this year - but he didn't get anywhere near finishing the second, thanks to Du Plessis.
Seeing Carter limp off training grounds was once agonising for the nation. Now, the pain is almost his alone - the All Blacks have functioned brilliantly without him. He's never had the arrogance to believe he's irreplaceable but nor would he have imagined life would go on so smoothly without him.
His goal throughout November is to establish that his presence makes a tangible difference; that by having him in the No 10 jersey, the All Blacks enjoy an obvious and indisputable lift in performance.
In years past, this wasn't too hard. Other than a brief period when Nick Evans was around, there really hasn't been a viable alternative to Carter. It's a bit different now. Cruden is a genuine force at test level. He's gifted, composed and improving. This year, every time Barrett has come on, he's left everyone wanting more.
"I definitely realise these guys are making the most of the opportunities they have been given and played some good rugby," says Carter. "I take pride in seeing these guys perform on the international stage. The frustrating thing is that I want to be given the opportunity to play a lot more so I can put my best foot forward. But at the moment I'm not able to get any consistent game time and that is when I think I play at my best.
"It is great to see the talent coming through and that adds to my motivation and wanting to get out there and to play. People are asking me if this is the end of me. It would be a different story if I was fully fit and they were still going with the other guys.
"That is the challenge for me and the depth of New Zealand rugby is really strong which I guess it hasn't always been in certain positions. If you look at the bigger picture, it is great for the game and, as one of the guys wanting the jersey, it helps motivate me."
What also helps is that under coach Steve Hansen, the All Blacks take some persuading to change their view on established pecking orders. Carter remains the All Blacks' first-choice first-five. As well as Cruden and Barrett have covered for him, they have still been doing only that.
Previous All Black regimes have rewarded the man in form - kept players in the jersey if they have grabbed their chance and played well. It used to be players-regardless of who they were-had to bide their time when returning from injury, they had to wait for an opportunity to prove themselves all over again.
Hansen doesn't subscribe to that thinking. He's all about skill sets and who has the most appropriate one to fulfill the needs of the team. Carter, to his mind, remains the best equipped No 10 in the country and will be given the chance to prove that throughout November.
Still, Carter knows he won't be backed indefinitely. He knows that he has to perform, that the pressure is mounting to justify the coach's faith. Many would find that tough. Not Carter.
"When I return, I understand that I am not going to change the
world," he says. "It does take a few games to get back into your groove. When I do play, I have to make sure I nail my core roles. If you do that, you build confidence.
"You have to make sure you don't try to re-invent the wheel. You don't want to look for that special play. Do the basics well and build from there. I have played less than 80 minutes since the end of Super Rugby so Japan is a good integration to get me through some game time there. After that, I just want to finish the season strongly.
"It has been a frustrating season with a lot of different injuries and niggles and things. I want to finish the end of year tour with a good
amount of game time and be happy with my performances. I guess from that Japan week on, I have to make sure I move on right through the tour and that I am an integral part of the side."
There is an added incentive for Carter to perform on this tour (not that he needs it). Once he clocks off, he won't be seen again until the middle of next year.
He's taking his second sabbatical; this time, he won't play. He's going to see if six months off to re-build himself will finally put an end to the run of injuries he has incurred since 2011.
He's confident the break will be the panacea for the niggles - the calf strains and the hamstring tugs.
He's willing to believe he can regenerate himself, if not quite to the athlete he was back at the start of his career, then damned close.
"I have thought a bit about why I keep getting these injuries," he says.
"It's a bit of everything. I am one of the smallest guys in the team but I can't get away with hiding behind my flankers-the way you probably used to be able to. You have to be up for the challenge of tackling and be a physical member of the side because there is no way of getting round it.
"You have to tackle and, because you have to take the ball up to the line, you are going to be tackled as well. The body does take some wear and tear after 11 years playing professional rugby. Which is why having a bit of a break and a chance to refresh is great-the body won't be as good as it was when I first started but it's about making the right decisions."
When he says break, it's not really what he means. He won't be playing for the Crusaders, but he will be training. He'll definitely be doing that as he aims to return fitter, faster and stronger.
Carter will be 32 in March next year and that inevitably means there will be different views on the value of his sabbatical. Some will believe time away from the cut and thrust of SuperRugby will lessen,not strengthen, his game. Others might wonder whether it will have any effect at all.
But Carter is doing it because he genuinely believes there is more left in his tank. "I did look at my options of playing [during his sabbatical]," he says.
"That was the early stages of deciding after I knew I was going to take a sabbatical. I explored but not too much. I realised quite early that playing wasn't the smart option in regard to what I wanted to get out of the break.
"As time has gone on, that has confirmed it was the best decision for me. I needed time away from the game and the reason to do this is to get some longevity and to get back into good nick. Playing overseas would go against everything I thought.
"I'm living my dream and I realise it won't last forever but I want it to last for as long as it can. If it [sabbatical] leads to another four or five years footy, I'd be really happy with that. That's why I have tried to make some smart decisions; the way it is going it might have been only one or two. The motivation and enjoyment are still there."