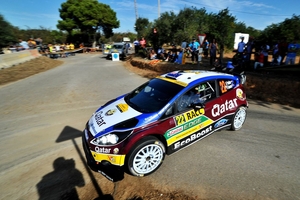 New Zealand rally pairing of Hayden Paddon and John Kennard are about to go out and play with big boys in world rallying in a big boy's car. The former world production rally champions have been given the keys to an M-Sport World Rally Team-prepared Ford Fiesta RS WRC for this weekend's Rally of Spain.
Until the Kiwis get into the heat of competition, they're uncertain how they'll match up against the 12 other WRC competitors, which include Volkswagen star Sebastien Ogier, who has already wrapped up the 2013 WRC drivers' championship, Jari-Matti Latvala, the Citroen duo of Mikko Hirvonen and Dani Sordo and Paddon's own Qatari team-mates drivers Mads Ostberg, Evgeny Novikov, Nasser Al-Attiyah and Thierry Neuville.
As always though, Paddon and Kennard will be concentrating on their own thing but will have an eye on the stage times of their fellow contestants. The pair had a short hit out in the car on tarmac during the week.
"As the first two days of the rally are on tarmac, our test was conducted on tarmac," said Paddon.
"It was an amazing feeling to be behind the wheel of a WRC car and within the environment of a very professional team.
"Getting up to speed with the car did not take as long as I thought it might, as after the first few runs I was starting to feel comfortable with the speed difference and the handling.
"For the rest of the day we were able to target specific areas of the car to improve to suit my driving style and by the end of the day I had a car that I was very confident in."
Unfortunately for Paddon tarmac was the only surface he was able to test on and so gravel racing will be a whole new adventure, as he's never tested a WRC car on the dirt before. But as always, his preparation and pace notes have been well organised and having done the event twice before is an added bonus.
"We're not here to try and prove anything, we don't want to miss out on the opportunity to show what we can do and hopefully fulfil what we ultimately want to do and that's get a full-time drive next year [in WRC].
"We're pretty well prepared and it's an awesome opportunity to get the chance to drive one of these cars but I don't want to get overly excited about it and treat it as a one off.
"While we won't be on the knife edge all the time it will be a bit of a step learning curve.
"As a competitive person you don't like being beaten but the reality of it is how we learn from competing against the likes of Ogier and the others and try and get as close as we can," said Paddon.
In his climb up through the various categories in rallying Paddon has experience a wide variety of cars and their individual characteristics. He's now at the pinnacle of the sport and in one of the best cars around.
While the WRC cars may not be vastly faster in line than the S2000 models he's been racing recently, how they deliver their power is completely different.
"It's nice to have a bit of power under the foot and it's actually a very nice car to drive. The handling isn't too different to what we're used to but the biggest difference is the engine torque.
"It's not necessarily the power you have, it's the drive out of the corners you have. We're using a gear higher than we normally do and sometimes two higher, which means you're carrying a huge amount more of corner speed.
"On top of that your exit speed is almost doubled. Not surprising really when the torque is about three times as much as an S2000 car. It's actually a much more driver-friendly car that will allow you to hold it in the wrong gear and it'll keep on pulling.
"The car's actually easier to drive but requires a bit more commitment and it's the sort of car that suits me," said Paddon.
The gravel will be a test for Paddon's skills, having not tested on the surface. The gravel stages are quite tricky, with a soft, sandy surface that can be slippery if wet.