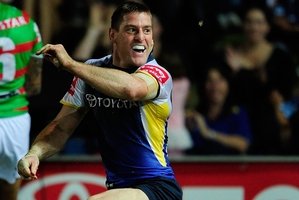 Three years after a devastated Brent Tate was captured on TV cameras crying uncontrollably in the Australian dressing rooms after breaking down with his third serious knee injury, league's most inspirational player will tomorrow return for the Kangaroos to complete the greatest comeback story of the modern game.
The veteran Queenslander will get first crack at cementing the right centre spot left vacant by Justin Hodges when Australia take on England in the World Cup opening blockbuster at Cardiff's Millennium Stadium.
Tate hasn't played for Australia since the Four Nations final in 2010 - when his emotional breakdown was caught on Channel Nine cameras.
But he says the feeling he has now has made all the pain worthwhile because this is one of the proudest moments of his life.
"I don't have any shame in saying that because it has been bloody tough and there has been a price I have had to pay along the way," the 31-year-old said.
"So to get back here makes all that worth it."
Tate has been fighting back from career-threatening injuries for more than a decade.
He first suffered a serious neck injury in the early 2000s while playing at the Broncos that doctors feared would end his footballing days then.
From there he has had to overcome a busted shoulder and a broken jaw along with three serious knee operations.
"I must admit after the third knee I was just happy to come back and play first grade," he said. "I probably really thought my rep footy career was over.
"Looking back, it has been tough and I am extremely proud in what I have been able to do."
But as proud as Tate is, he says he won't be looking back when he runs out in front of an estimated crowd of 50,000 at the famous Cardiff ground.
With Jarryd Hayne, Josh Morris and Michael Jennings all in contention for this right centre spot, Tate knows he has his work cut out to keep his place in the team but a strong performance tomorrow will put him in the box seat.
"I have been able to reach the top again, which for me is very special," he said. "But once I got named to be a part of this Kangaroo tour I set myself the goal to make this team and now I don't want to lose it. And for the team, it's the same thing. That loss in 2008 [in the World Cup final] is still really raw in my mind, to be honest. For me, I haven't allowed myself too much time to sit back and think about anything other than trying to get out there and do my best for the team."
But Tate admits when coach Tim Sheens told him he was in the team he couldn't keep the news to himself.
"The first thing I did was race upstairs and grab my phone and text my wife and the family back home. I said to my wife, 'I'm in the team.'
"And she texted back, 'You've just got to go out and play your butt off, honey'."