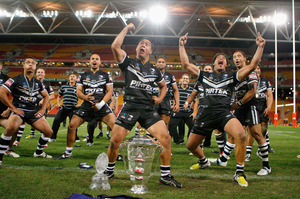 The World Cup will throw up some upsets but, when it comes down to it, I expect Australia and New Zealand to battle it out in the final.
Defence is what will win the tournament and the fact Australia and New Zealand are stacked with quality NRL players is the key difference. They will not only be able to read the play better on defence but they will also be able to play with sustained intensity.
England have a good squad and their shock defeat to Italy last weekend will give them a bit more ammunition and focus to play well but their edge defence will be sorely tested and, historically, they have struggled to contain Australia out wide.
Even if England somehow manage to beat the Kangaroos on Sunday morning, it doesn't change a lot for the Kiwis because they still need to beat Australia to win the World Cup whether it's in a semifinal or final.
Italy and the US announced themselves with their upset wins last weekend but I see the island sides, and Tonga and Samoa in particular, being the most dangerous.
They won't win the World Cup, but they have the ability to do some damage and the Kiwis need to be wary.
Island teams can be difficult to stop if they get on a roll. The bounce of the ball might go their way, along with a few refereeing decisions and, before you know it, they have the ascendancy.
Throw in the weather conditions and crowds who will back the underdogs and an upset could be on the cards.
I remember playing at the 1995 World Cup when we were nearly beaten by Tonga. We needed two late tries and a Matthew Ridge dropped goal at the death to win. We were very lucky to win that game, although our campaign was stopped by Australia in the semifinals.
Samoa might be missing Roy Asotasi, Steve Matai and Jeff Lima but they still have a strong side and pose a threat to the Kiwis on Monday morning. Few expect them to win, which means there's no pressure on them and they can play some ad-lib football. The big question is whether they can sustain it for 80 minutes.
It's not going to be a walk in the park but I think New Zealand's professionalism will see them pull through.
It's arguably the best Kiwis squad for some time and they have a lot of classy decision-makers who know how to win games.
There will be pressure on the Kiwis as defending champions, but that's good.
The All Blacks have shown that's a positive because it keeps everyone focused and honest and trainings should be intense.
The competition for spots also means everyone has to be on their game all the time because the battle for a place in the starting XIII is the most competitive I have ever known.
In saying that, the Kiwis looked rusty last weekend even though they beat the Cook Islands by 50-0. Some hadn't played for about six weeks and it showed because the polish wasn't there.
There were too many bombs allowed to bounce, too many dropped balls and some poor decisions made on defence.
They will be better for it, but what will be even better will be a good start against Samoa.