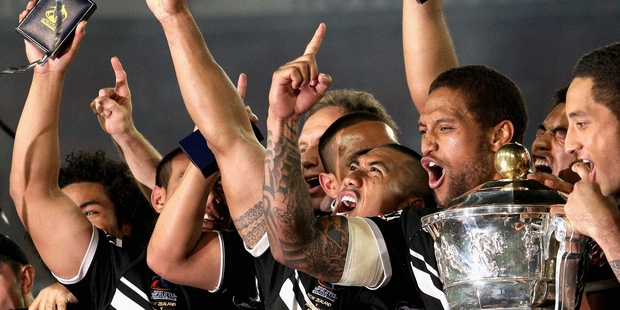 Stephen Kearney had little more than five months to prepare for the last World Cup, so the five years he's had this time must feel like an eternity.
It makes New Zealand's upcoming World Cup campaign a different proposition on so many levels, not least the fact the Kiwis go in as defending champions as opposed to hopeful contenders.
Kearney is a vastly more experienced coach now than he was when he was handed the job as a green 36-year-old just months out from the 2008 World Cup.
It was a tumultuous time in New Zealand rugby league, after some players said they had no confidence in former coach Gary Kemble and made his position untenable.
Kearney took over with Wayne Bennett by his side, and the pair somehow managed to turn around a Kiwis side thrashed 58-0 by Australia 12 months previously and put it on top of the world.
The formula worked, but things have changed so much Kearney says there's little he will draw on from the previous campaign.
"The experience is something we can use," he says from Liverpool, where the Kiwis are based ahead of their World Cup opener against Samoa on Monday morning (NZT). "But for me it's totally different. It's an opportunity for this group to make their own history."
It's a vastly different side from the one that triumphed in 2008. Seven players - Greg Eastwood, Krisnan Inu, Thomas Leuluai, Issac Luke, Simon Mannering, Jason Nightingale, Manu Vatuvei - survive from that campaign but 15 of the 24-man squad have played fewer than 10 tests and two (Sam Moa and Roger Tuivasa-Sheck) have yet to make their test debut.
Kearney has tried to introduce young players over the last five years in preparation for this World Cup and there's a hope it's not 12 months too soon for this outfit. They have an average age of 25 and 10 caps, and the top halves combination - Kieran Foran and Shaun Johnson - has played two games together.
Australia are at a contrasting stage in their development, but coach Tim Sheens is confident his ageing players will still be near their peak for the tournament. Their squad has marginally more international experience than New Zealand, with an average of 10.6 tests, but most are State of Origin veterans.
Kearney accepts that Australia, New Zealand and England deserve to be favourites but doesn't agree it's a three-horse race.
"If you go by the results last weekend, everyone would beg to differ," he says. "Italy shocked England, and Samoa and Tonga have wonderful rosters. I think it's going to be the best World Cup we've seen. It's the most talent a World Cup has ever had."
New Zealand are second-favourites behind Australia and it's a worthy billing. They should emerge top of their group, after which they should meet Tonga in the quarter-finals and England in the semifinals.
Australia are again firm favourites - they've won nine of the 13 World Cups played and won six in a row from 1975 to 2000 - and a lot will still need to go New Zealand's way if they are to defend their title.
"The first thing is defence," Kearney said. "It's always an important factor and we have been working really hard on it. We also hope to get through the tournament with a healthy roster. A tournament like this mirrors the NRL season.
"Ultimately, the most important thing is making sure the group is ... working towards the same goal."
Things are coming together on this front and the Kiwis have been popular wherever they have gone since arriving in the UK 10 days ago. The inclusion of Sonny Bill Williams has had a lot to do with that, which may also be a distraction, but his availability improves New Zealand's chances.
Kearney is wary of expecting too much from his most high-profile player. "He hasn't played in a Kiwis jumper in five years so needs to come to grips with our structures and what we're about," he says. "I think we will start there. Hopefully we have five games to build on that.
"Where that ends up, I can't tell you."
That's something Kearney can't plan for.
- APNZ