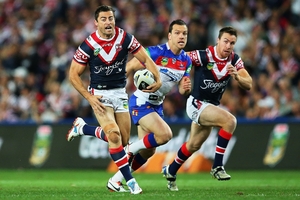 1. Planes, trains and automobiles
Perhaps the US league team should build it into their preparations for every game. Before last weekend's 22-18 win over France in Toulon, the Tomahawks had only one training session the day before the game and spent the week leading up to the match travelling for 39 hours in planes, trains, buses and taxis. Add in the fact their coach Terry Matterson, the former Broncos back-rower and current Cowboys assistant, was appointed less than two weeks before the match and they were missing four of their best players, including Eddy Pettybourne and Clint Newton. The US, ranked 12th in the world, will meet the Cook Islands, Wales and Scotland in pool play.
2. Italian job
The prizemoney on offer for the top sides at this World Cup is decent, with A$50,000 ($57,200) for each player in the winning squad down to A$30,000 for third, but the financial rewards are significantly different at the other end of the food chain. The Italians, for example, are being paid just $200 a week to cover expenses during the tournament.
"These guys are playing for nothing," Italy spokesman Peter Peters told the Daily Telegraph. "They get their meal allowance and no money to play." Before you feel sorry for them, some of them like Anthony Minichiello, Aidan Guerra (Roosters) and Kade Snowden (Knights) earn good money the rest of the year.
3. Paul bearer
Robbie Hunter-Paul, formerly Robbie Paul before he went against convention and adopted his wife's name, did his best to inspire UK fans ahead of the World Cup. "In how many other major team sports can England say they have a realistic chance of lifting that silverware in a World Cup as a top three contender?" the former Kiwis halfback said in Rugby League Week. "Not football, or rugby union either and this is the reason the man on the street should start to get excited. When the public talk it, the players may just start to believe it." They might not be so confident after last weekend's 15-14 defeat to Italy and Gareth Hock's late expulsion from the squad for a "serious breach" of team discipline.
4. Hock treatment
Hock felt he was harshly treated for being thrown out. Hock admitted he broke team rules and went out drinking after England's defeat to Italy and then overslept and missed a team recovery but said he wasn't alone. "For missing a 10-minute swim - I think it's out of order really," Hock told the BBC's North West Tonight. "I agree that it was wrong and we shouldn't have had a drink, but there were six or seven of us and we all did the same thing." The squad had been forbidden from drinking until after Sunday morning's tournament opener against Australia and coach Steve McNamara was less than impressed when he found out.
5. Play the ball(room)
You can see the natural affinity between ballroom dancing and league. It's what will be dished up as one of the highlights of the "hotly anticipated" opening ceremony ahead of the tournament opener on Sunday morning (NZT). Martin "Chariots" Offiah will reunite with his Strictly Come Dancing partner to jive around Cardiff's Millennium Stadium. "It is amazing that Strictly Come Dancing, one of the biggest shows on the BBC, have agreed to be a key part of the opening ceremony," tournament general manager Sally Bolton gushed. "To have [the show's host] Gethin Jones and Martin Offiah as part of that will be a real treat for the crowd." Just imagine the hard-as-coal northern mining stock tapping along.
6. Aussie, Aussie, Aussie
Australia have been the most successful nation in World Cup history and it's not hard to see why. On top of their nine titles, they have won 47 of their 55 games (one draw, seven defeats) and scored 1698 points and conceded only 591. They have failed to make the final once - the first tournament in 1954 - and it's hard to see them reaching that low point again.