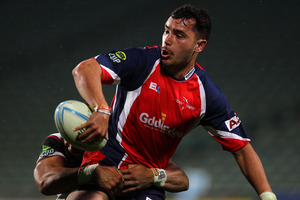 Few rugby teams will identify their trip to Albany to meet North Harbour as the turning point of their season.
But when you go there and get beaten by one of New Zealand's most toothless provincial sides it's a stark reminder you need to have a look at what you've been doing.
In week five of this year's ITM Cup, Tasman were knocked over 23-12 in Albany - it was Harbour's only win of the season - and Makos assistant coach Leon MacDonald said it was the dose of reality they needed.
"It was disappointing but it probably really kickstarted our season," MacDonald said.
"It was a wake-up call for us and we changed a few bad habits that had snuck in. Every team has a rough performance, I think there's no team in the competition that hasn't had a rough performance during the season and that was our one.
"Better we got it out of the way early in my mind, and it was definitely a turning point for us.
"It was more about preparation than anything. The performance followed on from poor preparation so it was about becoming more professional in the way you prepare every week, regardless of who you're playing against and that's probably the biggest thing we highlighted from that performance."
Since then, Tasman have been a juggernaut and will start as heavy favourites in tonight's Championship final against Hawkes Bay in Nelson.
Tasman squeezed past Hawkes Bay in week six 18-9 and followed it up by averaging 44 points per game in their last four outings of the season as they posted wins over Northland, Waikato, Taranaki and Manawatu.
The main constant during those games has been the decision to switch Marty Banks to first-five from his preferred position of fullback.
The newly signed Hurricane has scored points by the bucketload, while Tasman have played an inspired running game.
MacDonald insisted not a lot had changed in the past month, despite the plethora of points.
"It's just a bit of confidence, I suppose, and guys are playing good rugby and enjoying themselves.
"I think we've probably taken a few more opportunities as they present themselves as to what we have in the past. So we're just finishing off opportunities better and I think that all comes from confidence."
Hawkes Bay have made the final the hard way after they endured a tricky travel schedule to Dunedin to tip over Otago 29-24 in their semifinal on Sunday.
They boast a hard-working loose trio with Brendon O'Connor, Mike Coman and Karl Lowe, while their backs are full of running led by exciting pivot Ihaia West and flying fullback Zac Guildford.
Tasman loose forwards Liam Squire, Shane Christie and Gary Redmond won't shy away from the confrontation at the breakdown, which will set the platform for the contest.
Tasman eased past Southland 49-28 in their semifinal last week and have also enjoyed an extra day's rest compared with the Magpies.
Only nine points separated these sides last time they met and both teams will want to throw the ball around and prove they should be in the Premiership next season.