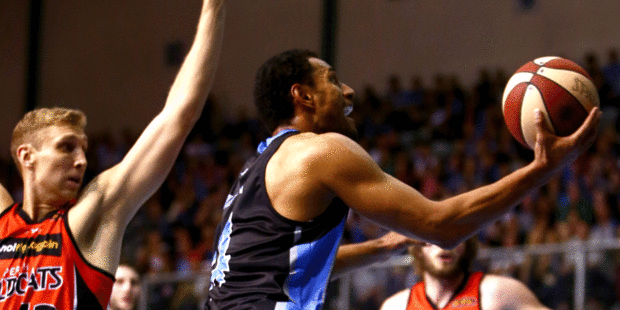 Breakers 89
Wildcats 96
A three-game losing streak should leave Breakers' fans sullen but some will have a spring in their step after what they saw last night.
The defending champions dropped to 1-3 on the new season, losing three straight for the first time since 2010 after being edged by old rivals Perth on the North Shore.
The Breakers came into the contest without a home loss in more than 12 months but, throughout that year, they had never encountered a player like James Ennis.
The NBA draft pick lived up to his billing and enhanced his impressive scoring average, turning a fast start from the Breakers into little more than a footnote as he inspired his side's fourth straight victory.
Ennis, still property of the Miami Heat, showed he why he could eventually roam the same court as LeBron James, scoring 29 points and providing a number of highlight plays.
"The dangerous thing about playing with James Ennis is standing and watching,'' said teammate Damian Martin after the game.
The American was of a different quality when gliding to the hoop but he was also willing to do the grunt work, pulling in six boards and drawing a mind-boggling 11 fouls from the Breakers' defence.
Ennis made it hard to be melancholy but, the fact remains, the last time they Breakers endured a slide this severe they missed the playoffs. They won't be worried about history repeating - it's far too early and they're far too talented - but it has hardly been an illustrious start to Dean Vickerman's reign.
Equally unimpressive was the much-hyped match-up between Ennis and Tom Abercrombie, with the Tall Black restricted to five minutes' court time in the first half after drawing an inexplicable second foul early on.
Abercrombie's fate was indicative of a stuttering opening quarter, with both teams frustrated by the new rule interpretations which brought whistle whenever free-flowing basketball threatened to break out.
While the stop-start nature did little to disrupt the home side's scoring, the same couldn't be said of Perth. The Wildcats managed to make only three of their first 17 attempts from the floor, allowing the Breakers to jump out to a 26-17 lead at quarter-time.
The Breakers would have been reasonably happy with how they handled Ennis in the opening period, limiting his influence and preventing any big plays. That began to change in the second, though, with Ennis sparking a revival.
"He went to the post in the second quarter and showed his talents down there,'' Vickerman said. "He's got unbelievable length. We doubled him at different times but he got a little bit of a run going in the post in that second quarter.''
His athleticism came to fore in the third, excelling in transition and marking his performance with a menacing dunk as the visitors began the final quarter with a five-point advantage.
That lead grew as large as 11 but the Breakers soon pulled it back to four, before missing a couple of key free throws and allowing Perth to hang on.
Breakers 89 (Johnson 17, Pledger 16, Abercrombie 14)
Wildcats 96 (Ennis 29, Beal 19, Wagstaff 17)
HT: 45-47
- APNZ