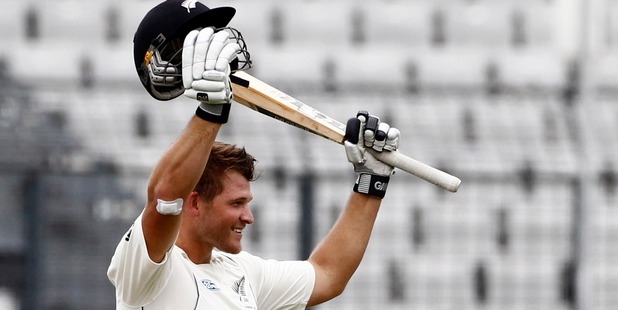 New Zealand have carved out a winning position with two days to play in their second test against Bangladesh.
And for that, they owe a significant debt to young allrounder Corey Anderson, who hit his maiden test hundred in his second test at Dhaka's Shere Bangla Stadium.
Anderson's 116, in large part, achieved alongside Kane Willliamson in the course of a 140-run fifth wicket stand, pushed New Zealand from a tricky 127 for four, replying to Bangladesh's 282, to 419 for eight.
Others played their part. Williamson's painstaking 62 over four hours was important. So too some good late innings work by wicketkeeper BJ Watling and young spinner Ish Sodhi, who doesn't appear particularly fazed at the demands of test cricket, both making unbeaten half centuries.
A good day for the Northern Districts' quartet, but pride of place belonged to Anderson, still only 22 but who seems to have been around the domestic game for a long time.
He made his first-class debut for Canterbury in 2006-07 at 16. Injuries have not helped his progress.
Anderson moved to ND for the 2011-12 season and while his talent was never in question, some wondered whether he would make the final step up, or if his skills were better suited to the shorter forms.
Anderson didn't have it all his own way last night, spending 30 balls over his first three runs. But once he had his bearings, he attacked smartly, mixing caution to solid, deep blows and went to his century off 139 balls, with 11 fours and two sixes.
He had got New Zealand's nose in front before departing, pushing a catch to cover to give industrious debutant al-Amin Hossain his first test wicket.
Anderson will have more challenging times ahead, but his confidence should have been significantly boosted.
Pleasingly, the later batsmen didn't cave in, but pressed on with Anderson and Williamson's conscientious work.
Watling completed a fifth test 50, a tidy effort, while Sodhi's methods were more direct. He clubbed five fours in the space of 10 deliveries to put the heat back on Bangladesh's spinners, of whom the world's No 1 allrounder, Shakib al-Hasan was comfortably the most demanding. He is Bangladesh's most successful test wicket taker and got through a marathon shift yesterday.
Their stand was worth 84, as New Zealand's tail repeated their effort from the drawn first test at Chittagong, when Watling and Trent Boult put on 127 for the last wicket.
Sodhi has his good fortune en route to his maiden test 50, dropped twice on 34, as Bangladesh's out cricket got sloppy. Wickets one day, good runs the next. It has been an impressive test for the 20-year-old, and the chance today to help press for victory.
Their heads went down, as did the catching opportunities and New Zealand stuck to the job diligently through the day.
Bangladesh had let slip a potentially winning position at the start of the day - or put it another way, New Zealand had, through craft and graft, put themselves in charge of the test.