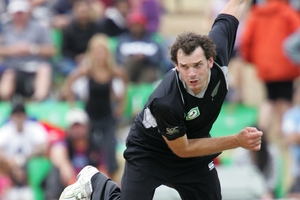 Senior New Zealand seamer Kyle Mills is determined to be around for the World Cup, but knows there's plenty of overs to be bowled before that.
Mills leaves New Zealand today with teammates Nathan McCullum, Mitchell McClenaghan and Adam Milne to join the one-day squad for a series of games in Bangladesh.
His record is impressive since he made his ODI debut 12 years ago. Only Dan Vettori, with 276 wickets, has taken more than Mills' 222 at an impressive 26 runs apiece.
Of the current players, the next most successful ODI bowler is Tim Southee, who has taken 94 wickets.
Mills' form of late has been good, and he has particularly enjoyed himself in Bangladesh, with 21 wickets in 10 games there at just 14 each.
But he knows he must maintain his form if he's to put what could be a full stop on his career on home soil at the World Cup in early 2015.
"I was really pleased with my form in England in the Champions Trophy and the series against England," he said.
"I'm happy with what I've contributed to the group but I'm definitely not getting too far ahead of myself."
For one thing, there's the developing depth in the fast-medium department which Mills is delighted to see.
The 34-year-old knows the New Zealand selectors may want to get as much experience into the younger bowlers as they can before the World Cup. Still, accumulated wisdom counts for plenty.
"There's a lot of water to go under the bridge between now and then and people may leapfrog me. But I will be doing my damnedest to try and be involved," he said.
He aims to stick to a plan which has served him well in Bangladesh in the past.
"It's a tough environment to bowl in, the heat, humidity and flat wickets, and they've become a far better side over the last decade.
"I try to be really specific with my plans, bowl as straight as possible, try to be hard on myself not to bowl half volleys or balls which give the batsmen width."