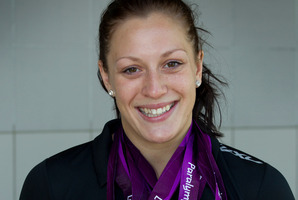 Strong support has been found among the country's leading disabled athletes to retain the category at the annual Halberg Awards.
The Halberg Disability Sport Foundation, in its annual review of the awards, surveyed 209 elite disabled athletes for their view on the Disabled Sportsperson of the Year.
It found 85 per cent of respondents believe the award enhances recognition of their achievements, while 71 per cent supported the category being retained at the Westpac-sponsored awards.
Paula Tesoriero: Elite disabled athletes deserve better recognition
The category was introduced in 2011. Both times so far it has been won by world and Paralympic swimming champion Sophie Pascoe.
"The decision to introduce the award has again been given the thumbs up by the very athletes for whom it was intended," foundation chief executive Geoff Burgess said. "The support shows its validity as a platform for recognising the success of New Zealand's elite disabled athletes."
The winner of the award is eligible for the Halberg Supreme Award, along with the winners of the sports man, woman and team of the year. The only category winner not eligible for the top honour is the coach of the year.
It remains a contentious issue, from the perspective of whether disabled athletes should be placed in the relevant man, woman or team category and stand on their merits and be compared with able-bodied athletes. Pascoe, for example, was not a nominee for the sports woman category at this year's awards.
Former Paralympic cycling champion Paula Tesoriero, winner of a gold and two bronze medals at the Beijing Paralympics in 2008, vigorously defends paralympic sport as elite competition.
"I can't see the difference in training, commitment and preparation between disabled and able-bodied athletes," she said. "Some aspects are harder. Along with putting up with the usual injuries, disabled athletes face other obstacles unique to their disability."
"Without the award, those achievements get buried. And while they are buried, it is hard to raise awareness in the minds of people."
Tesoriero is adamant that an elite disabled athlete will one day win the Supreme Award.
The Halberg Awards are judged by a panel of 30 former athletes and journalists.