After rejecting Tonga's World Cup bid, the former NRL bad boy talks of his `legacy'.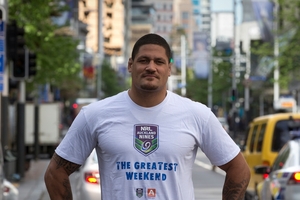 At 1.96m and 121kg and a jaw chiselled straight out of the Rocky Mountains, it's hard not to notice Willie Mason.
In the past he had the big hair, the big hits and an even bigger mouth.
He once said he "hated" Souths, swore at Brent Webb when he was performing the haka (something David Kidwell famously took offence to) and also mocked a female radio reporter in front of his Australian teammates which reduced her to tears. It's little wonder he was known as The Human Headline.
The 33-year-old has mellowed a little but is still being judged on his past and it's a large part of the reason why he won't be playing in the upcoming league World Cup.
Mason played 24 tests for Australia, and was considered an outside chance of making the Kangaroos squad, but was approached by Tonga about adding to the one test he played for them in 2000. It was something he contemplated, but only briefly.
"I was going to play for them but I spoke to one of the management people and he more or less was saying I was going to be disruptive in camp," says Mason, who was in Auckland yesterday promoting next year's Auckland Nines. "It pissed me off so I canned it straight away. I don't think I would have been and I found it highly disrespectful so I made myself unavailable straight away."
Mason is not lily-white, and his list of indiscretions is extensive, but he's not as bad as many believe in a sport littered with stories of off-field indiscretions. He was once called Public Enemy No 1 and in 2007 was voted by fans as the most hated player in the NRL for the third year in a row.
He's never seemed to mind and doesn't regret anything he's done but he's often been left bewildered by the furore surrounding him.
"Looking back on it, it was surreal," he admits. "A lot of stuff ... they just made stuff up. I was spotted coming out of a nightclub at 10am when I was asleep or didn't even go out. Anything I did or said was magnified by 20. It didn't really get to me. It ended up being laughable.
"But I was left thinking, 'what the hell did I do?' I have urinated in public twice. It's the worst thing I have done. Compare it to all these other idiots playing now. How am I supposed to be painted as this villain? That's not the sort of person I am. I don't go around [drink driving] or hitting chicks. I don't go to rehab and do all this sort of bulls**t. I'm just me. I will always be me."
He has always been a good league player and recently played his 250th NRL game. He also helped Newcastle to within one game of the grand final.
With one year left on his Knights contract, he's also coming to the end. Mason talks about his "legacy", and it's why he returned to the NRL after a failed attempt to play rugby with Toulon, and also wants to mentor teenagers faced with life-choices.
"I remember what I was like," he says. "I could have taken footy seriously or sold drugs and be a bad shit. I could easily have done that instead of working hard and achieving goals. I think I can help."
- APNZ