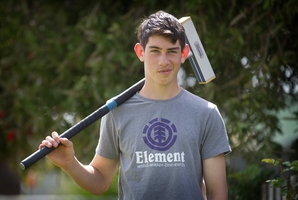 Golf croquet is hardly one of those sports which leaps out and says "play me", but that has not stopped St Pauls Collegiate youngster Hemi McLaren Mellars making his mark and taking a few of his schoolmates along for the ride.
Different from the traditional "association croquet" in that it can be played on a smaller lawn and is seen as being more akin to chess and 8-ball and with the need to think three or four moves ahead of your opponent, golf croquet appeals to the younger players but continues to win over players from the more established side of the fence.
"It is the same as association croquet in that the same equipment is used and the hoops are in the same positions," said Mellars, 15. "Golf croquet is becoming more and more accepted especially with the younger players coming into the sport. It has now been around for more than 10 years."
Mellars, who first had a mallet in his hand as an 8-year-old and played golf croquet exclusively in his earlier playing days, is now trying his hand at the more established version of the sport.
"I play association once a fortnight and have been getting my handicap down. I was on a 24 at the start of this year. Now I'm down to 18 and hopefully in a year's time I will be down to a four."
For the Morrinsville teenager, it has become a love affair with the lawn at the local club. He was introduced to the sport by his grandmother who along with his mother remains his greatest supporter. His grandmother is a stalwart of the Morrinsville Croquet Club.
"While golf croquet is taking over, the MacRobertson Shield remains one of the biggest trophies in New Zealand sport which means association croquet will be around for a long time yet," Mellars said.
While he has been in the national squad as a junior (under-23) for a couple of years - the first player from the Waikato to make that grade - Mellars still has to sell his sport to his friends at school.
"My mates really have no clue what it is," he said. "Like most people, they see it as an old person's sport."
To keep in touch with his peers, he has also played hockey - he played in goal for their under-15s - and indoor rock climbing, a sport which also demands a keen eye.
With his ongoing sporting demands - he has his sights set on the nationals in Nelson before Christmas and beyond that the big carrot of the World Championships in New Zealand in 2015 - it is becoming a juggling act between his sport and his schoolwork as he needs to leave home at 7:10 each morning to catch the school bus.
For the year 11 student it is no big deal, and given his progress and with what lies ahead, those demands are set to become even greater, but he looks forward to flying the golf croquet flag for as long and as high as he can.
Results
Cricket
Boys
Premier two-day championship, round three (day one)
St Kentigern 177 (Aditya Dhadwal 3-43) v MAGS 191/5 (Dhadwal 80no, Aniket Parikh 31).
Rosmini 194 (William O'Donnell 3-38) v WBHS 67/2.
AGS 207 (B. Rainger 50, Belz 36; A. Avery 3-20, H. Fletcher 3-80) v Sacred Heart 84/3.
Two-day plate, Macleans 95 (A. Patel 4-20, W. Classens 4-17) v Avondale 147/4 (M.Smilie 52no, M. Van Tilburg 38).
KBHS 160 (L Lomard 48, L Fuller 32; C Jones 3-26, J Plummer 3-29) v St Peters 109/1(E Webster 64no).
Rangitoto 42 (M. Murray 5-4) v Kings 127/9 (Murray 41; P. Thomson 3-15).

Girls
Premier championship
WGHS 119/3 Glendowie 1st XI 108/5; Baradene 87/1 TGS 86/5.
Senior B, Kristin 156/1 Sancta Maria 45.

Lacrosse
Boys
Division one, championship, semifinals
Michael Park School 16 Pinehurst 0, WBHS 9 AGS 8. Plate (5th/8th), semifinals, MAGS 24 Whangaparaoa 2, MRGS 9 Orewa 4. Bowl (9th/12th) semifinals, St Kentigern 11 Avondale 1, St Peters 6 Rosmini 5.

Volleyball
Junior premier
Girls
Mangere 2 Rangitoto 1; Manurewa 2 Mangere 0; Rangitoto 1 Manurewa 1. McAuley 2 WGHS 1. Otahuhu 2 Long Bay 0; Otahuhu 2 Orewa 0.
Boys
Orewa 2 One Tree Hill 0; Orewa 2 Manurewa 0; Manurewa 2 One Tree Hill 0. WBHS 2 De La Salle 0; De La Salle 2 KBHS 0; WBHS 2 KBHS 0. Rangitoto 2 Southern Cross 0.

Water polo
Junior
Boys
A grade, pool A, WBHS A 5 MAGS A 2, St Peters A 7 Green Bay 7. Pool B: St Kentigern 8 Kristin 1, Rangitoto 7 Kings 0.
B grade pool C, AGS B 14 St Peters B 4, Parnell 8 MAGS B 4. Pool D, Long Bay 10 WBHS B 1. Pool F, Sacred Heart B 22 Macleans 0, St Kentigern B 5 Glendowie 5. Pool G, Sacred Heart 10 MRGS 2.
C grade, pool G, Sacred Heart 9 AGS C 3.
Girls
A grade, St Cuthberts 9 St Kentigern 3, WGHS 6 St Marys 5. St Kentigern 8 EGGS 7.
B grade, MAGS 12 Western Springs 3.