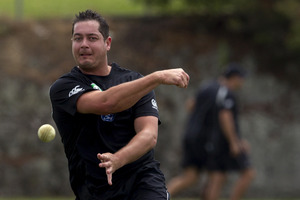 Jesse Ryder got to do what he does best yesterday - crack a cricket ball - and it was magnificent to watch.
The former Black Cap has not hit a ball in anger for more than six months. He was assaulted outside a Christchurch bar in March and sustained a serious head injury and an aspirated lung.
While he was recovering, he learned he had tested positive for a banned substance he had inadvertently consumed while taking a weight loss supplement.
He was banned for six months and that ban ended at the weekend. Ryder was free to return to work and the former Wellington player had his first training session with Otago at the University Oval yesterday.
"It is good that the ban is finished and to get my first session with the team," Ryder said.
"It is a big week of training and then hopefully head up to Wellington and put on a performance."
Otago opens its Plunket Shield campaign against Wellington at the Basin Reserve on Sunday.
Ryder, who clearly enjoyed his first session back, laughing with his new team-mates and with a smile fixed on his face, said he was looking forward to playing against his old side.
"It will be good to see a few of the boys as well. But I'm just focusing on performing for Otago and being a consistent player throughout the season."
In the nets, Ryder looked a million dollars one minute and about two bob the next. It was what you would expect from someone who has had to wait so long between bats.
He shouldered arms to a delivery from spinner Nathan McCullum, which crashed into the top of the middle stump. But he still has that golden touch, wristily flicking a delivery off his hips and crashing another in the direction of cover had the net not been there to intercept it.
The 29-year-old has the unique ability to hit good balls to parts of the ground he has no right to find, and the rare talent of manufacturing boundaries from nowhere. It has made him hot property on the twenty20 circuit and New Zealand Cricket will be keenly following his progress this summer.
''I was a little bit rusty to start with but once I got into it, it was good. I got the feet moving and it felt real good.''
As for his health, Ryder, who has dropped 4kg and looked in good shape, said he still has some dizzy spells and was more forgetful than usual.
''The health is almost there. I'm still struggling a little bit with it but apart from that it is all good.
''That [the dizziness] seems to be getting a bit better as time goes on. The memory stuff is probably just me normally. But it was something I've noticed. I'm just forgetting stuff a little bit more.''
Ryder shifted to Dunedin three weeks ago and still has not got around to seeing the sights - other than Jacob's Ladder, that is, which is probably how he lost the 4kg.
''I'm really enjoying it. It is quite chilled out. But I haven't done any of that yet. I've just been out to Port Chalmers and the only sights I've seen is Jacob's Ladder and the stairs and stuff like that that Keeno [Otago trainer Adam Keen] makes me do.''