Boxer's fighting fit but preparing for bout against Belarusian with a replacement trainer.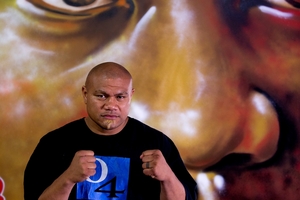 David Tua's calf has healed and his weight is said to be falling by the day. The only potentially disquieting factor ahead of his heavyweight clash against Alexander Ustinov in four weeks is his split with trainer David Hedgcock.
Hedgcock, a little Australian with a colourful past, returned home after Tua decided during his lay-off with his calf problem - which led to the postponement of his fight against Ustinov originally scheduled for August 31 - to part ways due to a personality clash.
Instead, Tua's friend and experienced trainer Henry Schuster will be in his corner for the fight against the 36-year-old Belarusian in Hamilton which could rejuvenate his career.
It is understood that one of the goals set by Tua and his fitness coach Lee Parore, who got his man in such good shape for his demolition of Shane Cameron four years ago, is to weigh in at 106kg. Tua was 108kg for the Cameron fight.
"Possibly I will be in great shape, better shape than when I fought Shane in 2009," said Tua, who was wary of appearing too pleased with himself yesterday. "I can't get too relaxed, I have to stay on top of things, there's still a lot of hard work to do."
Tua, 40, said his calf was now 100 per cent. Likewise, he put a positive spin on his split with Hedgcock, a former kickboxer and bouncer. He denied the pair parted ways due to the injury, saying it was more about "energy".
"The energy in the corner between rounds is very important. Everything needs to be right and I believe he [Schuster] is the right man for this next part of the preparation. David Hedgcock was a great trainer, he had a lot to offer, but for me things didn't quite connect, so respectfully I had to make a decision and got the brother on board to help out.
"I thought about it quite a bit during my rehab. [Schuster's] energy is very different, it's very similar to mine - very calm. I love the energy Dave had but it was a little bit wild for me at that time. He's a good man, though, I have time for him."
Tua said he was training when young heavyweight Joseph Parker beat fellow Samoan Afa Tatupu for the New Zealand National Boxing Federation title recently. Parker won by knockout but suffered a bad head cut, with Tua saying he was "saddened" by the injury.
"It was almost like a curse," he said. "I never wanted to fight a fellow Samoan. During my amateur career and as a pro I've always done my best to avoid that. It was just how I was brought up, it's like fighting one of your brothers. Certainly I understood that it had to take place. The curse part is how he got cut. That cut is a very, very bad cut ... that could be a major factor in his career. It doesn't mean that I'm being negative, I'm being a realist.
"And it doesn't mean he hasn't got what it takes, yeah he's got what it takes. I think the rest is up to him. He's very gifted."
Tua match-up
Tua (won 52, lost 4, drawn 2).v Ustinov (28-1-0).
Claudelands Arena, Hamilton, Nov 16.
- APNZ