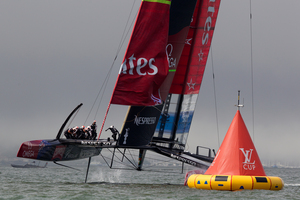 Economic Development Minister Steven Joyce says there are no strings attached to the $5 million funding for Team NZ, which was largely to retain key members of the team until it decided whether to mount another challenge, which he expected to be by April or May next year.
He said future funding if a challenge went ahead would probably be on a similar basis to last time in which the Government put in one third of the total funding raised. That came to $36 million.
Grant Dalton and Dean Barker had both directly told him they intended to stay on as part of the team. "Although they have also been very clear, both of them, that they shouldn't have their positions as of right and that should always be tested over the next three or four years. But my understanding is that they both intend to stay part of the team."
Dalton had said on the day Oracle won the Cup that he did not expect to be involved in the next challenge.
Mr Joyce said it was a tricky time as other syndicates started "sniffing around" and delaying would mean that other challengers got a head start in areas such as sponsorships.
Mr Joyce said the $5 million would be written off if Team NZ did not mount a challenge, but the Government would look at further funding if it did go ahead. He said it was less than the $6.5 million Team NZ had wanted in short term funding, and it had agreed to try to make up the shortfall elsewhere.
"The balance was around developing some of the technologies they wanted to at this stage, and we said that's fine but see if you can find some other sponsorship for that."
He said it was up to Team NZ to work out potential sponsors and the Government would not have a veto over those, although it would be taken into account when the Government was deciding on any future funding if the challenge did go ahead. "IT's one of the things we'll look at, as to whether we get sufficient branding for our investment, and that's definitely one of the things we'll want to assess. We'll be looking for improvements as part of any investment, as well as every other sponsor would. If it came to that, we'd probably have to fight over bits of the boat."
Internet mogul Kim Dotcom has previously said he was considering sponsoring a Team NZ challenge. "We haven't sorted a right of veto as such. My humble view of dear old Kim is if he wants to get into the America's Cup, he should pop up to San Francisco and lay his challenge on the table. I'm sure they'd like to see him," Mr Joyce said.
The Government did not intend to use its shareholding to try to influence companies such as Air New Zealand to chip in. Air New Zealand had resisted providing technological help to Team NZ in the last challenge because of Emirates' sponsorship.
He said the Government would not be able to recoup the money if no challenge was made, but that was part of the prive of keeping the team together.
Mr Joyce acknowledged that in 2008 National had looked at ways it could get out of the $10 million the former Labour Government promised to Team New Zealand to help it stay together while it worked out the 2013 challenge. It was unable to do so, and he said it had paid off. He justified the decision to provide more funding by saying it was in New Zealand's best interests because of the profile it gave in the United States, and benefits to the industries involved such as technology.
"On the strength of the outcome in terms of exposure for the this country, it's certainly worth looking seriously at again and we are prepared to put the $5 million up in the meantime to give the opportunity to see if we can support the team to put a challenge together."