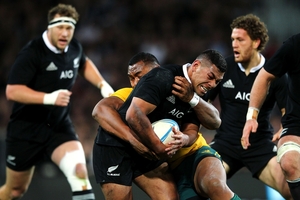 Wings used to be reticent about contact, they would chase kicks and sometimes get the ball on the end of a chain movement.
They were the finishers, the speedsters to biff the ball to when a lot of space had cleared around them.
Now they are massively involved in a test, as Charles Piutau found when he made his first test start on the right wing after half a dozen introductory lessons from the bench.
The 22-year-old can play. He brings the speed which involved him in the NZ sevens side, the ability to smack into defenders and offload if he can and a workrate and intuitive sense not always found in players of his vintage.
Many felt he should start the third test with the Wallabies in Dunedin and when he was promoted after Cory Jane's hamstring failed to co-operate in training, Piutau slipped strongly into the No14 jersey.
He plays at fullback for the Blues, is being touted as a possible centre next season in Rene Ranger's absence and has made a strong beginning on the wing for the All Blacks.
While he expresses himself in a range of ways on the field, Piutau does not emulate Cory Jane's answers off it. He is far more circumspect and measured in his responses.
"I knew I had to get my core roles done out there on the field and that is chasing hard, high ball catch, tackling and just running strong and I just focused on that and hope I did that well," he said.
He sure did.
Piutau soaks up the physical side of the game - after all, as he points out, it is a contact sport.
He also watched the physical approach of Israel Folau and Tevita Kuridrani who bring size and power to their work with the Wallabies. It needed one early Piutau spot tackle on Folau to halt what loomed as a serious raid.
"Out there I just use my size to try and chop them, it is a bit easier when they like to come in for the contact and don't worry about footwork," he said.
Anywhere in the back three suits Piutau. He is not going to nominate one role ahead of another and will have a shot at all of them. In his sevens days he played centre and that helped him work off teammates either side of him.
People watching Piutau would have seen most things except a right foot centring kick from him at Dunedin. They would have seen a young man who is composed and physical and someone who did not seem to suffer from his late call-up.
He attributed that to the weekly rituals in the All Black camp where everyone is told to prepare each week as though they are playing. Piutau also went to Jane, who gave him valuable ideas about working down the right-hand side of the field.
"He told me just to do my job out there, keep calm and enjoy it."
Backs coach Ian Foster liked what he saw from the rookie test wing.
That encouragement gives natural ball players such as Israel Dagg, Julian Savea and Piutau the green light to use the skills which make them such awkward foes unless the defensive lines are secure.