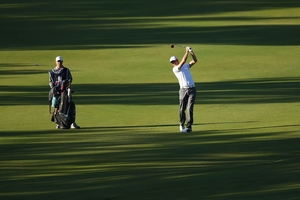 It's that time of year when golfers hungry for bigger prizes chase success in lesser tournaments, like the Perth International, to foster hopes of more major paydays.
A classic example is English golfer Ross Fisher, sitting close to the top of the leaderboard in Perth after playing a game of catch-up for the past five months. He is aiming to do well in Australia to set up some bigger rewards over the next four weeks as the European PGA Tour begins the climax to its Race For Dubai with the final four tournaments offering over US$30 million in purses.
Fisher struggled badly on the US PGA Tour earlier this season, missing eight of 15 cuts before turning his attention back to the European Tour in May. The 32-year-old has since moved his way up to 65th in the Race to Dubai standings and he'll book a spot in next month's $US8.5 million World Tour Championship in Dubai if he can climb another five spots.
A high finish at the Perth International should be enough for Fisher to crack the top 60. A win in the A$2 million tournament will guarantee him starts in all four events of the Race to Dubai play-offs.
Fisher shot a five-under 67 in the second round to be just two shots adrift of Perth International leader Peter Hedblom but last night had slipped back slightly to a tie for fifth, with a third round one-under par 71 keeping him only two strokes off the lead.
After spending the past five months clawing his way up the Race to Dubai standings, Fisher doesn't want to let his opportunity slip at the last hurdle.
"I want to try to get into the top 60. It would be for me a great achievement having played the first half of the year in the States," Fisher said. "I've always been playing catch up, but I can be really proud of how I've played the second half of the year."
Fisher is currently ranked 113th in the world rankings, but he's aiming to crack into the top-50 next year to earn back his US PGA Tour card. New Zealand golfers Mark Brown and Gareth Paddison were tied for 21st part way through the third round last night though Josh Geary, Ryan Fox and Brad Shilton all missed the cut.