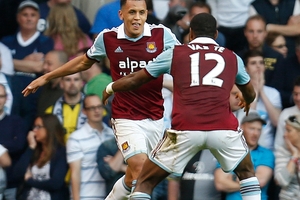 When I arrived at Manchester United, I asked Sir Alex Ferguson who the club's young guns were. He told me there was a kid in the youth team who was as talented as any he had seen at that age: Ravel Morrison.
I thought: "Wow, I can't wait to see this lad." But in my three years at United, I watched the club try everything they could to make him turn up for training or be there on time. They supported him, gave him the bad cop treatment, put him in the reserves, put him in the first-team squad. They even gave him a space in the first-team dressing room. They did everything to turn him into a solid citizen.
Sir Alex and United would always extend forgiveness and put their arm around a troubled player. It just reached the stage where they could no longer carry on that way. They had to let him go. Maybe moving out of the area served as a wake-up call.
At Birmingham and West Ham, he has started to look like a player. In his position, just behind the striker, there is also Ross Barkley, of Everton.
Together, Morrison and Barkley could be England's secret weapon for the World Cup, now that England have qualified.
I trained with Ravel and the game seemed almost too easy for him. In my opinion, that led him into bad habits. Because it was so easy and he was so skilful, with a football brain (he can see a pass), he would do things on a pitch regardless of whether they were the right thing or not. He has a belief in his own ability, almost a kind of arrogance, which means he will do things just because he can or for the fun of it.
In his own age group, he was so superior to everyone else he would hold on to the ball too long or try to score that world-class goal.
I was commentating on the England Under-21 game against Lithuania in midweek and watched him run through, thinking: "You should have passed there." He should have passed again before his goal but he had to have the one-on-one and beat the last defender.
But what a goal against Lithuania. The best thing was the finish. He was coolness personified. Unless you are that cocksure you don't score goals of that quality. You need supreme confidence and that is something that cannot be taught.
I had it at 18 years of age and it stayed with me for five years or so after the 1998 World Cup in France, where I scored my most famous goal, against Argentina. It gradually disappears. You cannot hand that quality to someone. When I look back at myself, at 18, I see a different person. Yes, I knew Gabriel Batistuta, their leading striker, and a couple of other players, but I had no real idea about Argentina. I did not care. I just assumed I would score.
There is something about being young and fit and cocksure. At that raw age you have faced no disappointments in your career.
Looking at England's new faces, Andros Townsend knows what disappointment is. He has been out on loan to several clubs and has probably had to soul-search.
Barkley, on the other hand, has no real experience of setbacks. He was always a shining light in Everton's youth teams. Those are the players who really excite me, because they will go into a World Cup and not comprehend the magnitude of it.
They will at 25, but not at 18, 19 or 20. Only now can I fully appreciate what I did in my early years for Liverpool and England.
Barkley, Townsend, Alex Oxlade-Chamberlain and maybe Morrison would know no other way.
In the last two senior qualifiers I saw young attacking players with pace and confidence declare their talents. Not long ago, these young players would not have been thrust into prime match-winning positions.
I like what I am seeing from England's youngsters. Morrison may have seen the light now. Let's hope he makes the most of the precious gift he's been given.


Michael Owen is a former England, Liverpool and Manchester United striker.