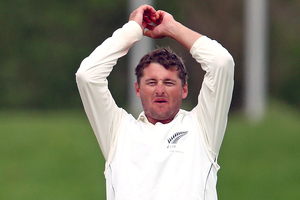 Bruce Martin will be playing for his test career when the second test between New Zealand and Bangladesh starts tonight - if the 33-year-old's selected in the playing XI.
A promising debut against England last summer in Dunedin turned into survival last week on a tame Chittagong pitch. He struggled to pressure the hosts' batsmen.
Adding to the drama has been the religious festival of Eid al-Adha this week (a type of Bangladeshi Muslim thanksgiving) which has seen the New Zealanders struggling to get practice time. Martin will be hoping that only goats get sacrificed. The Sher-e-Bangla stadium in Mirpur, 10km out of Dhaka, could also have a drier outfield than Chittagong, meaning reverse swing and another specialist pace bowler like Neil Wagner come into the reckoning.
Martin certainly earned his test place as much as anyone on the New Zealand first-class scene when he debuted against England in March. He had played 115 matches over 14 seasons, taking 314 wickets at an average of 35.96.
At the time he said he was looking "to take poles and bowl to some pretty attacking fields" rather than hold up an end during the series. Not bad for a man whose New Zealand Cricket profile says he was born with dislocated hips and had a cast down to his ankles.
Known as 'Bucko', Martin lured Matt Prior, Jonathan Trott, Stuart Broad and Jimmy Anderson into false shots on his way to taking four for 43 as New Zealand dismantled England for 167.
His career trajectory has since dipped, taking no wickets in New Zealand's push for the third test victory against England at Eden Park and suffering an injury at Lord's on the England tour which ruled him out of contention for Headingley.
Neither Martin nor debutant Ish Sodhi dominated for sustained periods last week as Bangladesh piled on 501 to take a first innings lead. Martin finished with match figures of two for 175 from 43 overs; Sodhi had three for 169 from 39.1.
Notably, when captain Brendon McCullum opted for spin in the second innings, he went to part-timer Kane Williamson first, then Martin.
Of the 13 wickets taken by New Zealand in the match, six came from spinners. They were largely ineffectual. By comparison, the Bangladesh tweakers had 16 out of 17, including Sohag Gazi's six for 27 in the second innings. It was a surface on which the New Zealanders struggled to take advantage. Martin and Sodhi delivered too many four-balls but, in the younger player's defence, he looked more attacking with his rhythm, loop and speed packaged in an action reminiscent of Anil Kumble.
If he can eliminate the four-balls which release the pressure each over, he'll be a genuine threat to batsmen - and Martin.
McCullum must hope he might one day get to use the services of Daniel Vettori again in subcontinental conditions. Vettori doesn't spin the ball like in the past but he can still create pressure with his unerring accuracy.
However, he is still not ready for the home summer. He has been rehabilitating after the Achilles tendon operation he had in London in June and will play club cricket soon.
Remarkably, New Zealand has used just eight other specialist spinners since the beginning of Vettori's tenure in 1997. Their appearances have always been to complement the former captain or cover for his injuries. With Vettori absent more often, a long-term successor needs to be found. The next five days are the time for Martin to convince the selection panel of that.