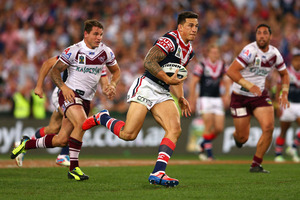 Sonny Bill Williams stands at the gates of sporting immortality. His legend may never die if he can achieve all that he hopes in the next three years.
If all goes to plan, Williams will collect a World Cup winner's medal with the Kiwis in November. He'll help the Roosters go back-to-back in the NRL, switch codes and do his bit in trying to steer the Chiefs to more Super Rugby glory; win back his All Black place, go to England and make history as part of a successful World Cup defence and then in 2016, pick up an Olympic gold medal with the New Zealand sevens team.
That's what he hopes will happen. Is it ridiculous? Possibly a clean sweep is a bit far-fetched but maybe not. The 28-year-old, whether his detractors want to admit it or not, is a sporting Messiah.
Success has followed him - his impact wherever he has gone has been obvious and immediate and his presence has made a considerable difference.
The SBW factor is real. He went to the Chiefs in 2012 - and admittedly plenty of other factors contributed - but they transformed from basket cases to champions. Likewise, the Roosters underwent a similar transition this year; they finished 2012 in turmoil and ended this year as deserved champions.
Williams is one of the great tangibles - a measurable and significant force. Of all the challenges that loom in his three-year sporting odyssey, the improbable hurdle to clear is the first.
The Kiwis are in England as reigning world champions, a title they won without Williams in 2008 after he infamously walked out of the Bulldogs and the code earlier in the year.
The Kangaroos are the favourites as always. Their line-up is formidable, an endless procession of big names: Billy Slater, Cooper Cronk, Cameron Smith, Johnathan Thurston ... the list goes on ... Greg Inglis, James Tamou, Paul Gallen.
But New Zealand love the role of underdog and having pulled off the near-impossible once, the Kiwis will fancy they can do it again. They would have felt that way on October 8 when their initial squad was named.
The next day, when Williams was shoe-horned in for Tohu Harris, their belief would have risen. The TAB agreed, dropping the Kiwis from $4 to $3.75 to defend their title.
"Sonny Bill back in a Kiwi jersey is such a huge boost for the New Zealand team," former St Helens coach Ian Millward said last week. "This guy is awesome - amazing in fact. He can do just about everything with a ball in his hand and he can also smash through brick walls.
"He's just a great player, simple as that. When he runs the edge with an arm free, he is almost unstoppable. The Aussies will possibly cope with him better than England but Sonny can run through any defence."
The Kiwis are certainly a more dangerous side with him in it. Good enough to win? Possibly - if a few things go their way.
And while it will be tough, the Roosters, too, would have to be rated a reasonable chance of backing up in 2014. That's not to say they will - just that they will begin the season as a credible and realistic force.
It's a bit far out to be predicting what prospects the Chiefs will hold in 2015 but much like the Roosters this year, the Chiefs will be a contender if not the outright favourite.
Theoretically, winning the World Cup with the All Blacks stacks up as one of the more likely achievements on the Williams bucket list.
Olympic gold in Rio? Why not? Williams and possibly Benji Marshall in the same side ... possibly a few others such as Messam and Ben Smith ... coached by Sir Titch...
The question, should Williams tick just half of his boxes, is where would that leave him in regard to his quest to be considered the greatest cross-code athlete?
He's had almost a decade at the top of two professional codes with several major victories. Boxing has gone on hold, and however much it may have looked like he was fighting fat taxi drivers, he was still able to claim to be New Zealand's heavyweight champion - a title which elevated him above the others in the select group of men who have excelled in two football codes.
Even without his boxing, Williams is a valid consideration alongside Brad Thorn, who has a special CV, and Jason Robinson, who is not far behind. Thorn has won a Rugby World Cup, a Super Rugby title, a Heineken Cup, four NRL championships, played for the Kangaroos and in State of Origin.
Jason Robinson, the diminutive wing for Wigan, Sale, England and the Lions won Challenge Cup finals for fun when he played league. He was a key member of England's successful Rugby World Cup side in 2003 and again in 2007 when they almost, incredibly, won again.
Karmichael Hunt has played three professional football codes, winning the NRL with the Broncos and making the final of the Heineken Cup with Biarritz, but he's fallen off the map in the AFL. Israel Folau is impressive, another to have played three codes but, at 24, he's not yet won much.
But Williams is about the most natural athlete seen in any code over the past decade. He's mobile, explosive, skilled and smart.
Thorn has the titles and longevity and, while he was an invaluable presence for the Broncos, Crusaders and All Blacks, even he would concede that Williams is a game-changer in a way Thorn could never be.
If Williams is not the best cross code athlete already - he will be by 2016.