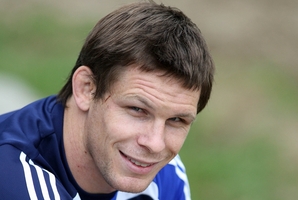 Rugby's Pacific Islands Player Association will officially confirm its existence this week along with the announcement of a sponsorship agreement to fund its player welfare activities.
The sponsor's name is under wraps but the Herald on Sunday understands it is an international corporate which has signed on for six months with another six-month option of renewal.
PIPA has been in development since last November. This will formalise the arrangement between players from Fiji, Tonga and Samoa.
In addition to the new relationship with the commercial sector, PIPA is backed by the New Zealand and international rugby players' associations.
Efforts to create solidarity in the Pacific Islands have been made before, most notably with Sir Michael Fay's support of Samoa in the 1990s. However, none has been sustained nor inclusive of the three main nations.
International Rugby Players' Association member services manager Josh Blackie says setting up PIPA has been a key objective since he joined the organisation at the start of last year while continuing his own professional career with Kobe in Japan.
"It was a no-brainer. Most players simply said: 'Where do I sign?' While the players want to destroy each other when they're wearing red, white and blue jerseys, this gives them collective power.
"PIPA will enable us to sustain player welfare and good governance over the Pacific Islands' game. It creates a support network where we can work in partnership with the unions and the IRB [International Rugby Board] to capitalise on the region's unique talent."
The tipping point for PIPA's development came last November following allegations by ex-All Black Simon Mannix that his former club Racing Metro paid Fijian players to rest during the 2011 World Cup.
It's supposed to be mandatory for players to be released during the June and November test windows and the World Cup but the reality is, money talks. Players are unlikely to quibble with employers in the interests of supporting their families.
Pacific Island unions want players to get European contracts for their rugby development and financial security.
Concerns about player welfare inspired Fijian captain and former Chiefs prop Deacon Manu, Samoa's Mahonri Schwalger and Tonga's Hale T-Pole to lead a working group to get Pacific Island players a bigger say on the international stage. PIPA is the result.
"Between the three of us, we're lucky to have contacts in Wales and New Zealand who are willing to help, despite our limited resources, because we don't usually get a voice," Manu said last year. "This movement is vital for our sustainability. We want to look back in 5-10 years knowing we made a difference."
Schwalger is no stranger to controversy. As captain he criticised management post-World Cup for their conduct during the tournament when Samoa missed the quarter-finals. There were suggestions a player strike had been mooted, team gear had been sold for profit and players were disappointed to be paid less than the Tongans and Fijians.
PIPA also faces the prospect of players being recruited straight out of Fiji, Samoa and Tonga. European clubs are forging closer links and, as the Herald on Sunday reported in March, French club Clermont has even invested in an academy programme with Fiji's Nadroga Rugby Union. The two parties will work together to develop local talent.
The best players will be offered full-time contracts and could eventually qualify for France on residency grounds.