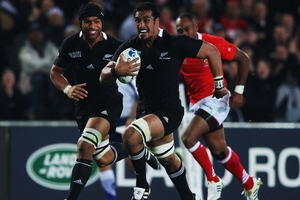 Now that the All Blacks have certainty over the once perplexing question of Richie McCaw's understudy, the new problem of what to do about Kieran Read has arisen.
The All Black No 8 has become the new irreplaceable piece of the jigsaw. He is head and shoulders the best No 8 in New Zealand. A good head at least, the best No 8 in the world and the potential calamity for the All Blacks lies not in the health of McCaw or Daniel Carter, but the fitness of Read.
If some cruel and spiteful influence should strike him down, to whom would the All Blacks turn? Who would wear No 8 in his absence? There are short-term scrambling options should it happen in a game.
McCaw could do it and has done it. Liam Messam has ample experience, including tests, at No 8. But the All Blacks want to have something more reassuring than emergency ways to cover for injury. They want - need - an alternative, specialist No 8 to cover for Read. The position is too important to be without one and right now, the cupboard is bare.
It's not a pressing problem for All Black coach Steve Hansen. He's got more urgent projects to attend to - such as finding a new, young hooker and building Ben Smith's confidence. But at some stage in the not too distant future he will have to give the issue some thought. Helpfully, he has a supply and demand imbalance at blindside which may provide his answer at No 8.
The bottleneck at No 6 is substantial. Messam is in the form of his career - probably the best blindside in the Rugby Championship, with his performance in South Africa delivering on all the promise he has long shown.
Steven Luatua can take some credit for Messam's form. His work in the early games when Messam was injured was impossible to ignore. Tall, rangy and gifted, Luatua has it all with so much more to come.
The All Blacks would be happy to push on to the World Cup with just those two but Jerome Kaino is returning home. Then there is Brad Shields, a thunderous unit who more than a few people would be intrigued to see let loose in a test. Luke Whitelock, while not perhaps universally accepted as in the same league as Luatua and Shields, has shown more this year with Canterbury to give a better idea as to why he is on the All Black radar.
There is also the forgotten man, Victor Vito. No one would dispute he stacks as the best athlete of the bunch; his challenge lies in his ability to impose himself.
One, possibly two of Kaino, Shields, Whitelock or Vito needs to be persuaded their future lies at No 8 rather than blindside. Kaino and Shields would be the best options.
The former, as everyone knows, was a world class blindside. Maybe he can be again after two years in Japan. But in all likelihood he will play No 8 for the Blues and his best route back into the All Blacks squad, initially at least, is probably as an experienced campaigner who can provide genuine specialist cover at No 8 and blindside.
Kaino has experience at No 8, will get more when he returns and has all the attributes. He's the best medium-term option to groom as a back-up No 8, with Shields probably the best longer-term project - despite the fact the selectors are expected to name Whitelock in the end of year tour party today.
The Hurricanes loose forward, at 1.95m and 110kg, is the ideal build. He's a bruising presence, has a big engine and good skills. He is in fact, much like Read who also had to be converted, at about the same age, from blindside to No 8.
Shields and Luatua are the same age and it's easy to see in time that they could become a blindside/No 8 combination if the former dedicates his future to that role.