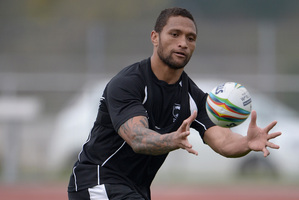 Being left out of last year's Kiwis squad helped Manu Vatuvei get the hunger back and it was a conscious decision to watch what he ate which saw him recapture the form which once made him the best winger in the world.
The 27-year-old had been a fixture in the New Zealand team since 2005, helping the Kiwis to some important wins including the 2008 World Cup title, but his form dipped last year and he was overlooked for the end-of-year test against Australia. He also missed out on this year's Anzac test, raising fears he might need to switch allegiance to Tonga if he wanted to play in this year's World Cup.
But 16 tries in 19 games for the Warriors, as well as a high work rate and powerful running game, meant he couldn't be left out by the Kiwis selectors.
Vatuvei felt a sense of relief when he was included in the 24-man touring squad but also a sense of satisfaction that his regime on and off the field was working.
Nutrition was never high on Vatuvei's list of priorities and it started to show. By the end of last season he was overweight and he now thinks it was a blessing he was dropped by the Kiwis.
"I didn't have a great season with the Warriors and I started gaining weight," he said. "All the stress started getting to me and not making the team topped it off. It was tough, really tough, to be left out but it was a good kick for me to get my head back into the game and train hard, do everything right and get my weight back down.
"It came at the right time. It gave me an opportunity to do Fight for Life and I [lost 8kg and] trimmed down to 103kg. I have put on another 4-5kg to get to my playing weight but it helped me a lot. I have tried to maintain it and my family helps me now to make sure I eat right. In the past I would do all the training but then waste it by eating whatever I felt like. It's been tough [to adjust] but it's been worth it."
It's likely Vatuvei will occupy one wing spot in the big games with rising talent Roger Tuivasa-Sheck on the other flank. Jason Nightingale represents a safer option - Vatuvei is still prone to the occasional handling error and defensive misread - but he doesn't offer as much on attack.
"I just know in that environment over there, greasy grounds, if you can get the ball to [Vatuvei] close to the tryline he's a good chance of scoring," coach Stephen Kearney said recently. "He will be a real asset in the UK, I'm sure of that."
He was at the last World Cup, scoring four tries against England and being recognised at the international Winger of the Year in 2008. The biggest reward, however was a first World Cup title for New Zealand.
"It was the best feeling I have ever had in my career," Vatuvei said. "Hopefully we can do it again."
He will start on the right wing against the Cook Islands in Doncaster tomorrow morning (NZT) in their only warm-up match before the tournament next weekend.
It will be a welcome return to the playing field for a number of players, especially those whose NRL seasons finished six weeks ago. The Roosters and Manly players who featured in the grand final have the week off.
Five-eighth Thomas Leuluai took a limited part in training yesterday because of a groin injury and a decision was due to be made overnight on if he would play against the Cooks.
- APNZ