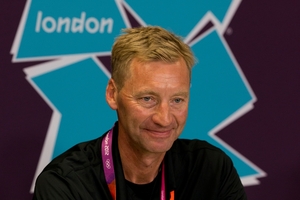 To Erik Duvander fell the task of breaking the news to Jock Paget that his eventing career was about to plunge into a doping nightmare.
And to the equestrian high-performance coach goes the related challenge of keeping the minds of New Zealand's best riders on the job at a time when their thoughts are turning towards world No 3 Paget and his battle to keep his blossoming career on track.
Paget's horse Clifton Promise failed a doping test after winning the Burghley horse trial last month. He is awaiting the results of the B sample.
If that, too, is positive, Paget is potentially looking at a two-year suspension under the International Equestrian Federation's "person responsible" stipulation, wherein the buck stops with the rider if there is a doping infraction.
"I've never seen him break like that," the former Swedish Olympian told the Herald from France yesterday.
We work closely together; it was heartbreaking to see his reaction."
Duvander is also aware of the damage a ban for Paget would do for the reputation of the New Zealanders in the eventing game.
"I do feel extremely sorry for all the riders in our team because New Zealand has such a great reputation for keeping the sport clean and for good behaviour."
Duvander is adamant Paget is not guilty of misconduct and said strenuous efforts were under way, along medical and legal routes, to figure out how Reserpine, a sedative given to keep horses calm, got into Clifton Promise's system.
Duvander knows giving a horse Reserpine doesn't make sense before a three-day event, because of the different demands on the horse.
"One day [dressage] they need to be calm, the next [cross country] sharp and quick, and the following day [show jumping] they have to be athletic, and quick."
Duvander said Paget's philosophy would be beneficial for him at a time of considerable stress.
"The good thing is Jonathan operates with a great mind.
"He is putting all his thinking into trying to solve this situation rather than feeling sorry for himself," Duvander said.
"Everyone is focused on how did this happen and coming up with the answers."
Duvander had driven through the night from England to Angers, southeast of Paris, where five New Zealand riders - including world No 1 Andrew Nicholson - are contesting the Lion d'Angers event for the leading 6 and 7-year-old horses.
He admitted "we're all probably a bit worn out", and he wasn't just referring to the road trip.
"We will move on and everything will snap back into reality," he said.
"Everyone needs to stay focused on their jobs because we've still got a few more important competitions and it's about keeping these riders in competition mode and finishing the season as well as they can."
Duvander, who competed at the 1992 Olympics, doesn't want to contemplate contesting the World Games in Normandy next August without the 29-year-old champion who won two of the six four-star events in the 2012-13 season (Badminton and Burghley) with Clifton Promise.
"No doubt Jonathan is one of the best riders in the world. He is also important for the team environment.
"Definitely [if Paget is absent] it will weaken the team.
"Jonathan adds really good stuff into it and so there would be a multiple effect if he wasn't available."
Against the history of B sample results, which rarely deviate from the A result, Duvander remains optimistic.
"There is hope, that's for sure, and we're working hell bent on it. Fingers crossed."