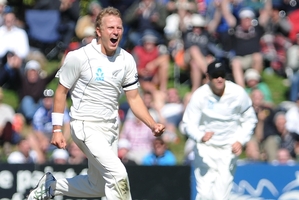 New Zealand won't rule out a three-seamer attack for the second test against Bangladesh starting in Dhaka on Monday.
Ordinarily that would be a normal state of affairs for New Zealand. But dry, draining Bangladesh isn't particularly normal for the tourists.
It was an option they considered for the drawn first test in Chittagong, according to coach Mike Hesson before settling on a two seam-two spin lineup, with backup in both areas.
Although Hesson is expecting a similar strip in Dhaka, the fact he acknowledged New Zealand "need to get better" with their bowling hinted at a change of thinking.
Chittagong was dry two days out from the start and had no pace in it. Having had three days off for the Eid festival, and unable to check the ground, it was not until yesterday New Zealand were able to assess the Shere Bangla National Stadium.
Chittagong had been a tough assignment for the seamers Trent Boult and Doug Bracewell given the extreme heat.
"We'll certainly consider playing an extra seamer if we think there's a bit more pace, or bounce, or reverse swing," Hesson said.
The unlucky bowler last week was left armer Neil Wagner.
The bustling Otago man had played the previous six tests unbroken - taking 19 wickets in the last five, against England - and his skill at reversing the wearing ball might enhance chances of getting a rapid recall.
In 197.1 overs, New Zealand took only 13 wickets in the first test, and with due respect to the bright talent of centurymaker Mominul Haque and the late innings ton from offspinner Sohag Gazi, the coaching staff are entitled to have expected better.
True, there were centuries for Kane Williamson and BJ Watling and it was five days of hard labour for both sets of bowlers. Still, Hesson knows more will be required at Dhaka.
There is an issue for the selectors over the spin bowling, too.
Gazi's final day hat-trick hinted that he will again be a threat next week.
But from the other perspective, there are concerns that the senior spinner, Bruce Martin, is finding it hard to really stretch the Bangladeshi batsmen.
Martin's last three tests have been ordinary, in three distinctly different environments - Eden Park, Lords and Chittagong. His first two tests produced nine wickets; three have come in his last three. He's averaging 53 for his 12 test wickets, and none for 113 in 27 overs was a disappointing first innings return in Chittagong.
Hesson had endorsed the 33-year-old as the senior spinner before the team departed. Now Martin needs to justify that faith.
"I think Bruce did get better as the test went on," he said.
"We've found here spinners need to bowl a bit quicker because the wickets are so slow. That's a real challenge for Bruce with the way he bowls. He is starting to learn the pace he needs to bowl over here."