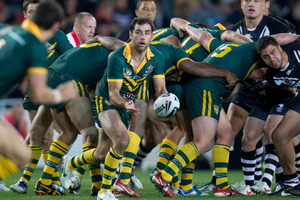 Three greats of the modern era could finish their careers without achieving the pinnacle of international league, if favourites Australia once again fail on the World Cup stage.
New Zealand's startling win back in 2008 means the tournament starting next week in Britain and France could be the last chance for Cameron Smith, Johnathan Thurston and Billy Slater to reach the heights of the great Kangaroos before them.
Following the pattern of irregularity which has plagued the league World Cup since its inception in 1954 (33 years before rugby had its first World Cup), it's been five years since the Kiwis were crowned champions for the first time.
But the long wait has only raised the stakes for the game's elite.
Australia's dominance through the years (nine trophies from 13 tournaments) means World Cup victory has featured on the resumes of most of the game's post-World War II elite - including immortals Johnny Raper, Graham Langlands, Bob Fulton, Wally Lewis, Artie Beetson and Andrew Johns.
Smith, Thurston and Slater, all realistic possibilities for immortal status, have won grand finals and conquered all with Queensland. But at age 30 in 2017, it's doubtful all three would be around for the next cup.
However, it's not just the Kangaroos who've been sprung into action by the Kiwis' heroics under Stephen Kearney in 2008.
Sonny Bill Williams walked out on Canterbury before the last World Cup began, and in contrast to his ever-growing list of achievements, he's never even won a test match with the Kiwis.
A winner of the Rugby World Cup with the All Blacks in 2011, Williams is hoping his 11th hour backflip to play for the Kiwis will make him the first dual international to claim cup victory in both codes.
Kiwis coach Kearney is also on the verge of World Cup greatness. If his team can defend their title, he'll join Australians Bob Fulton and Harry Bath as the only coaches to oversee two cup wins.
Fulton's record of four cup appearances as a player and two as coach make him untouchable as rugby league's most dominant figure at this level.
But Kearney, who played two World Cups for New Zealand as a player (47 tests in total), can create his own legacy as one of the game's most successful international player/coaches.
As it was for Ricky Stuart after 2008, anything short of victory will be the end of coach Tim Sheens' Kangaroos career.
The tournament kick-off between Australia and England in Cardiff next Saturday is a major test of credibility for the Brits, coached by Steve McNamara.
Great Britain has won three World Cups. The last was way back in 1972 and going it alone, England's trophy cabinet is empty.
They were completely outclassed back in 2008, but on home soil and with the Burgess brothers, James Graham and Gareth Widdop giving them a strong grounding in NRL experience, England are capable of pushing Australia and New Zealand.
There's no escaping the fact that the rugby league World Cup is at best a three-horse race.
However, the dramatic increase in Polynesian players in the NRL over the past decade has given the tournament rejuvenation and a unique atmosphere.
And there shouldn't be any of the embarrassing 100-plus scorelines that marred the last British cup in 2000.
- AAP