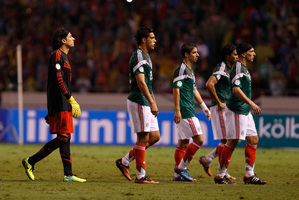 Every four years, it's assumed Mexico will play at the World Cup finals.
They've done it 14 times before - a record bettered by only Brazil, Italy, Germany and Argentina - and they were denied a 15th in 1990 when they were banned from international competition, including qualifying, for two years for fielding four overage players in qualifying for the 1989 World Youth Championships.
They've also made it out of the group stages for the last five World Cups, and only Brazil and Germany have accomplished the same feat.
It's why there is anger and disbelief they haven't qualified directly for next year's World Cup and the level of discontent deepened today with news the Mexican Football Federation sacked Victor Manuel Vucetich after only two games in charge (one win and one defeat) and replaced him with Club America coach Miguel Herrera.
"They've informed me that I'm out of the national team job,'' Vucetich told Raza ESPN.
"I'm King Midas, not God. This is why we are where we are.''
Herrera will be Mexico's fourth coach of their World Cup campaign and takes over for next month's World Cup playoff with New Zealand.
It shows what is at stake, with qualification estimated to be worth in the vicinity of US$600 million to Mexican football, and failure is not supposed to happen.
But El Tri have only themselves to blame for the predicament they are in. They won only two of 10 games in the final round of qualifying, known as the Hexagonal, and scored only seven goals.
Even at home, at their famous Azteca Stadium, they struggled with only one win and three goals in five matches. It took the US, their biggest rivals, to save them in dying minutes of the final round of qualifying this week when they scored twice against Panama to hand Mexico another chance.
"There is nothing to celebrate,'' Christian Gimenez said after Mexico's 2-1 loss to Costa Rica. "Today we have to hang our heads knowing we let down a country.''
There are many fans anxious about their chances against the All Whites but most still expect them to progress.
"We're going to beat New Zealand,'' Vucetich said after Wednesday's 2-1 defeat to Costa Rica. ``We have a group of very good players with which to do so.''
They will be without defender Torres Nilo and Manchester United striker Javier Hernandez, who are both suspended for the first leg of the playoff at the Azteca Stadium.
Hernandez, nicknamed Chicharito or Little Pea, has struggled for goals for both club and country but is still their most dangerous player and his absence is a bonus for the All Whites. He is Mexico's joint third-highest goalscorer of all time and scored 50 goals in his first three seasons with United.
Mexico will still have a raft of world-class players including Giovani dos Santos, Javier Aquino, Andres Guardado, Hector Moreno and Rafa Marquez and are stacked with young talent who won the 2011 Under-17 World Cup and gold at last year's Olympics.
Mexico slipped three places to 24 in the latest Fifa rankings. The All Whites are presently ranked 79 and there are seven Concacaf nations ranked higher than New Zealand.
A few things are likely to change under Herrera, who guided Club America to the Liga MX title, with more Club America players likely to be brought in and a switch from a 4-4-2 to a fairly loose 5-3-2. One thing that wouldn't change, however, is the confidence Mexico will go into the playoff.
"I'd bet on Mexico making the World Cup with my eyes closed,'' Herrera told Televisa Deportes.
Few Mexicans would enjoy watching if they failed.
#
Mexico
Ranking: 21 (highest 4 - 1998 and 2006; lowest 33 - 2009)
World Cup history: El Tri have qualified for 14 World Cups and haven't missed one since 1990 (when they were banned for using overage players in qualifying for the 1989 World Youth Championships)
Best result: Quarter-finalists at the 1970 and 1986 World Cups (both hosted by Mexico)
Did you know: Mexico won the 1999 Confederations Cup on home soil and are nine-time winners of the Concacaf Championship or Gold Cup. They also won the 2005 and 2011 U17 World Cups and gold at last year's Olympics.
- APNZ