Hesson prefers bowlers doing well at one or two forms of cricket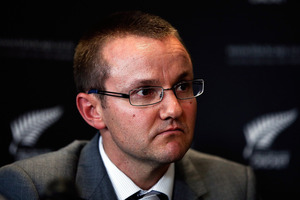 Shane Bond raised the topic last summer; now his boss has endorsed it.
Specialisation, when it comes to fast-medium bowling, is in. The days of bowlers playing all three forms of the game could be coming to an end.
It's not a locked-in policy, and occasions may require a one-size-fits-all quick fix. But as a broad philosophy, national coach Mike Hesson reckons it has merit.
In South Africa last January, former outstanding New Zealand quick, and now national team bowling coach, Bond raised the idea of certain bowlers being earmarked for certain forms of the game.
"T20 is a great game to introduce people to the environment, but it's also a game where you can get into bad habits," Bond said.
"We have bowlers who have better skill sets for test cricket. In terms of keeping those guys fresh and breeding some depth underneath, it's important you've got to pick and choose series for some to play in."
Now Hesson is advocating specialisation.
"You've got to be a very special bowler to be able to do that," Hesson said of having the ability to play all three forms with equal facility.
"There are different skill sets and in many cases you'd need to change your action to a certain degree to cope. We will keep developing players so that ultimately at some stage of their career they are able to play all forms [at international level].
"We far prefer players are able to perform best at one or two forms than be adequate at three. That's something we're certainly pushing."
It may not be music to the ears of up-and-coming types who are bursting to play for New Zealand across the board. Some not so young mightn't relish that news either. However, there is a certain sense in it, and a glance across the Tasman gives a clue why.
As Australia prepare to try to regain the Ashes in a few weeks, their fast bowling reserves are being seriously stretched by injury.
Gone are the seemingly permanently injured 20-year-old Pat Cummins (back), improving left armer Mitchell Starc (stress fracture) and probably James Pattinson (stress fracture).
The bustling and classy Ryan Harris is recovering from a hamstring injury, while Jackson Bird has back issues.
The durable Peter Siddle heads a largely young and inexperienced group of eight (!) who have been earmarked, but not publicly revealed, to share the load for the five tests.
By contrast, New Zealand have considerable depth of fast-medium resources.
Hesson believes the recent New Zealand A tour of the subcontinent helped the seam bowling cause, as will future A tours. New Zealand Cricket has plans to make them a regular fixture on the annual programme.
"We've been able to expose some really promising players to opportunities," he said.
"It's really difficult to pick somebody to play in certain parts of the world if they haven't played there before, because the skill set required is so different."
Central Districts' Adam Milne and Canterbury's Matt Henry, both 21, are two examples of players who took their chances in India and Sri Lanka on the A trip in September and early this month. The speedster Milne took 14 wickets in the course of six limited-overs matches, easily the most successful New Zealand bowler, and it helped to win him back a place in the one-day squad for Bangladesh this month.
Henry is clearly on the selectors' radar, his first-class numbers are impressive, albeit these are early days.
"To get those opportunities means they'll be ready to go when we need them. We have a good pool of quicks for test and short form," Hesson said.
Ensuring bowlers are pushing each other is paramount. And any feeling of complacency for those in possession of the top spots on the pecking order should be jumped on.
"In order for the group to stride forward we need people challenging each other every day. We have some very experienced players you can rely on, and some exciting prospects that hopefully in a year will be really fizzing and ready to go."
Opportunities are needed to keep players in work rather than stuck on net duty, or worse, watching from afar and risking loss of heart and ambition if they feel the door is closed.
"It's hard to make the squad, let along the playing XI. They know they've got to keep standards up, which is a good thing."
The spin shelf has several players, although the quality is skinny. Dan Vettori remains the country's best, once fit again. His absence in the past year and a half has hurt the test team.
Ish Sodhi is the most intriguing spinner in the country. Had he been assessed solely on his first-class numbers the young leggie wouldn't have been considered for a fast-track into the test squad.
But he's got talent, the eyes that matter have seen enough to show that. Sodhi is certainly a work in progress, but he's got something about him. Jeetan Patel may have done his chips for good, Todd Astle too, although at 27 it's wrong to write him off.
So spin looks thin, but the numbers are sufficient to build the depth; the seamers have that depth, and with quality at the top, fitness and enough coming through to be optimistic about the next five years.
The Australians, of course, wouldn't say it, but perhaps even they'd be a touch envious.