Behind the public jester, Cory Jane is serious about his rugby
Little has changed with the Voice and Whisper routine.
Cory Jane and Ben Smith were paired in public yesterday as an entree to their All Black partnership in Dunedin on Saturday. It's been almost a year since Jane last wore black but there was no quiet tread when he came into camp.
While Smith seems content to pick up his information quietly and make regular statements about his improvements on the pitch, Jane is in his hyperactive mode.
He is a restless, energetic soul whose playing style mirrors those emotions. His choppy short gait motors him down the right hand flank and other areas of the park as he flits about his rugby domain.
Jane is always on the prowl, forever it seems in motion whether he is waiting for the team bus to take the squad to training or at the practice sessions.
Even when he is forced to sit down for a formal chat with the media Jane balances on the edge of his chair or interacts with his teammate or television cameramen. Getting him to concentrate throughout an All Black planning meeting must be a mission or a very short conference.
He has tracts of energy which help to cope with life at home and his family of four kids. It also helped him recover thoroughly from his pre-Super 15 knee injury and convince the All Black selectors he was fit, after two ITM Cup matches, for a return to test rugby.
All Black coach Steve Hansen did not take long to be convinced.
"It's great to have Cory Jane back," he said.
"He has been a world-class performer and we are looking forward to seeing him back in the black jersey."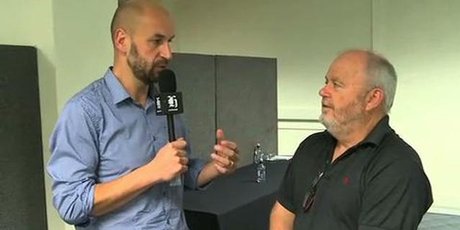 The All Black staff felt he was one of the best wings in the world and with Conrad Smith activating his leave of absence clause, this was a perfect time to include Jane and shift Ben Smith to centre.
Jane is serious about his rugby and at 30 and with a lighter frame than many opponents, he knows he has to keep improving his fitness and skills to stay ahead of the rest.
Behind the public jester there is a determination to be the best and flaunt those talents. He will chivvy his teammates and has struck up strong friendships with Israel Dagg and Julian Savea, but Jane also knows when to pull his head in.
He has learned to pick his times. He probably incurred the withering glare and caustic tongue of Sir Graham Henry and no doubt some of the present group will tell Jane when to shut his trap. It will not stay wired for long. That sort of bounce translates into his game.
"To get picked on the wing to play, my mind focused straight away on learning all the moves and getting comfortable in the team again and focusing on Saturday so I am excited," he said.
His knee was fine. The tough part had been getting the rest of his body into rugby mode once more after so long without any games. After all he had the worst legs in world rugby.
Jane was off again on one of his soliloquies about his deficiencies.
As he wanders through one of those moments and manages to reel a teammate into the discussion, Jane will then deliver some TKO line opinion or thought. The spider and web tactic is a metaphor for his rugby.
No one knows whether it works on any true test quality opponents but it suits Jane's psyche, so why change?
He figured the test under the roof in Dunedin would be at a fast pace and he might struggle if there were long periods of continuity. He might battle to deliver a few extra commands and there will be mistakes, as Hansen expects.
In some ways this felt like the buzz of his first test week but Jane was also buoyed by meeting his All Black teammates once more.
"'Cos I have played in the team for a few years now, you know that you go out there and do your job," he said.
"It is not about going out there and looking after guys around you. That is not how the All Blacks work so when you play at test match level it is easy in that sense, but it is a step up from all the other levels and I know my role."
As much as he enjoyed his part-time media stints, his workplace was on the other side of the camera.