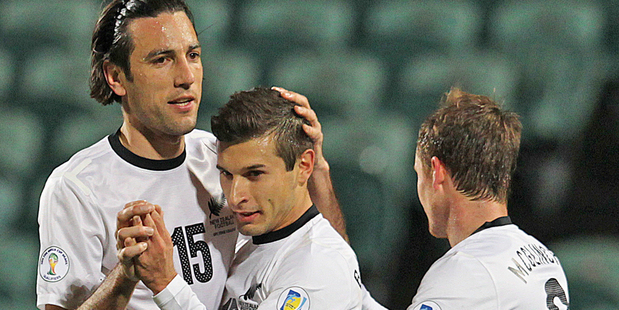 APNZ football writer Michael Brown, Herald columnist Sam Malcolmson and nzherald.co.nz's Steven Holloway look at the All Whites' chances in next month's World Cup playoff against Mexico.
Can the All Whites beat Mexico and qualify for the Word Cup?
MB: I don't think so. In a one-off fixture, maybe, but not home and away. One of the biggest challenges will be keeping the tie alive for the second leg in Wellington and I think the All Whites will struggle at the Azteca Stadium. The game will be played in front of 105,000 fans and at altitude and Mexico, despite their struggles, are still a quality side. I can see El Tri winning the first leg at least 2-0 - and it's hard to see the All Whites winning comfortably in Wellington. Since beating Bahrain four years ago, the All Whites have only ever scored twice in a game against non-Oceania opposition on two occasions (3-2 defeat to Jamaica and 2-2 with El Salvador).
SM: I think they can because Mexico have struggled in recent times. They are a young team who are not scoring goals and in a home-and-away scenario that is like a cup match, nerves could come into the equation. Playing the last game in Wellington gives us an advantage if we're not more than two goals down when we come back.
SH: Yes, but the footballing gods would have to be wearing white. Mexico are a country with rich World Cup history but are currently suffering a minor-crisis, so there is a ray of hope. But if the All Whites return from the Azteca with anything worse than a 1-0 defeat, it's game over. To keep the tie alive for Wellington the All Whites will have to overcome altitude, middle-of-the day Mexican heat, hundreds of thousands of passionate fans, world class footballers and a country baying for blood. It is possible, but very unlikely. It would take a greater level of luck, planning and defensive execution than we saw from the All Whites against Italy at the World Cup and Bahrain in Manama, and they were bloody lucky there.
Are there any selection issues for coach Ricki Herbert to ponder?
MB: The main ones are around holding midfielder and up front. Herbert will go with a 3-4-3 formation, which can look like a 5-4-1, and hope to restrict Mexico. Herbert is likely to go with Ivan Vicelich in the middle of the park alongside Michael McGlinchey because of his greater experience but I would prefer to see Tim Payne in there. Up front, Shane Smeltz will play if he's fit and will partner either Chris Wood or Rory Fallon in the central striking role and probably Jeremy Brockie on the other side. The key in the first leg is damage limitation. Marco Rojas and Kosta Barbarouses will come into the frame more for the second leg when they need to be more adventurous but neither are particularly good defenders so could be overlooked for the first match.
SM: The main questions marks are up front because if we don't score goals we can't win. We are really struggling for strikers just now. If Marco Rojas is fit, he's an automatic choice. He's got to go in. If Shane Smeltz is 100 per cent, you would think about him. Hopefully Jeremy Brockie gets that hunger back and he needs to play as well. One thing that worries me is the fact Mexico have a lot of pace. I saw them play the US and their players are quick so they could cause up problems for us at the back, especially down the flanks.
SH: Plenty. There is a real dearth of experienced options in the middle of the park for Ricki Herbert and Michael McGlinchey's central midfield partner seems still up for grabs. The ageing legs of Ivan Vicelich would be the bookies favourite, but he will be pushed close by Tim Payne. Herbert loves his 3-4-3 formation, which effectively turns into a 4-5-1 when the iron curtain comes down. That leaves Chris Wood, Shane Smeltz and Rory Fallon competing for two attacking roles in a very defensive minded set up. Also there is the Rojas factor. He's easily our greatest attacking weapon going forward, but could possibly be overlooked at the Azteca due to the style the All Whites play and his defensive frailties.
How does this team compare to the team that played at the 2010 World Cup?
MB: They're good and possess some exciting talent but most of them are four years older and they have one major influence missing. Wynton Rufer might have been the best player this country has produced but Ryan Nelsen is the most influential. He was the rock in the 2010 side both on and off the field and teammates fed off him. I don't see that level of leadership in the present team and their buildup has been inferior. I would rather have the 2010 version.
SM: It will take a hell of a long time for Ryan Nelsen to be replaced. He was a great leader, captain and player. He was the professional who read the game on and off the field and knew what was required. Winston Reid might be that sort of player in the future but at this stage he's only 25. I don't think the buildup has been as good, so we have a problem there, we're missing Simon Elliott and the likes of Shane Smeltz and Ivan Vicelich are four years older. They are not getting results or performing as well as the 2010 team.
SH: It's basically the same team, only four years older and without Ryan Nelsen. And they are all injured. Well not quite all, but Wood, Smeltz, Payne, Rojas and Vicelich certainly are. Their fitness is a worry, while Nelsen is irreplaceable. The All Whites wouldn't have achieved any of their great results from the last four year cycle without him, it's a huge hole to fill and Reid and Smith really need to step up.