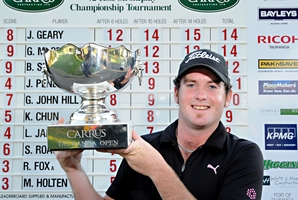 Josh Geary's victory at the Brickyard Classic on the Peach State Professional Golf Tour in April didn't make any headlines - why would it? The US win in Macon, central Georgia, earned Geary US$5200 ($6196), enough to help him continue to scrape by in the hyper-expensive world of professional golf.
After having next to no playing status in the US this year, Geary was forced to trek around the Peach State tour. Having spent time on the Web.com Tour in the past few years, things had fallen away for the 28-year-old and he was no longer entitled to regular invitations on the second-tier circuit.
His four starts in Georgia yielded him ties for second, fourth and 12th and his victory at the Brickyard, which gave him some confidence heading back to New Zealand for an assault on this summer's PGA Tour of Australasia.
Geary's return Downunder couldn't have gone much better.
He breezed through the field to win the Carrus Open in Tauranga on the Charles Tour just over a fortnight ago and last weekend dominated the Western Australian Open Championship at the Mount Lawley Golf Club on his way to a five-shot win.
The WA victory was the game-changer. Geary now has full status on the Australasian PGA Tour and is in this week's Perth International at the Lake Karrinyup Country Club, due to start today.
The Perth International is Australia's richest tournament with a purse of $2.38 million and all sorts of exemptions and privileges come with success this week.
Geary is one of six Kiwis in the Perth field with Mark Brown, Gareth Paddison, Brad Shilton, Mahal Pearce and Ryan Fox.
"It's been great. The confidence is sky high," Geary said.
Geary is third on the Australasian Tour's order of merit and will hope to hold his place in the top 10 during the next two months, which could send him to a collection of bigger tours in 2014.
- APNZ