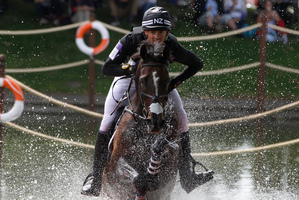 New Zealand's Jonathan Paget on Clifton Promise. Photo / AP
Champion New Zealand horseman Jock Paget is facing a lengthy ban and the loss of his Burghley eventing title after his horse Clifton Promise returned a positive test for a banned substance.
Clifton Promise was tested after Burghley last month and returned a positive reading for Reserpine in his blood. It is a sedative often used to help horses recover from long term injury or illness.
If the B sample, which is expected to be checked on Tuesday (UK time), Paget has three weeks to prepare a dossier of evidence before appearing in front of an International Equestrian Federation tribunal. The whole process could take about six weeks.
''Jock is devastated and coming on the back of what has been a real breakthrough year for him, to have this come out of the woodwork four weeks after Burghley has been an absolute showstopper for him," Equestrian Sport New Zealand boss Jim Ellis told the Herald tonight.
Should the B sample also prove positive, ''then between himself and ourselves we've got to do everything we can to prove there was nothing untoward, or an explanation as to why it was in the horse's bloodstream".
Although the leading riders and horses have grooms and vets who work with them, the FEI regard the rider as the person responsible for what is in the horse's system.
Paget won both the Badminton and Burghley trials on 15-year-old Clifton Promise and has the chance to clinch the Grand Slam worth $440,000 if he wins the Kentucky event next April.
Ellis said the two-year ban was at the extreme end of the punishment scale, and tied in with the World Anti Doping Agency regulations for human dopers.
Ellis aid Reserpine is used for the treatment of hypertension, but it has elements in it which have it on the FEI banned list and should not be used around competition time.
Ellis first got word of the positive result late last night and described it as ''the worst phone call I've had in six and a bit years in the role, no question at all".
He said the timing was particularly bad for the sport, given that New Zealand eventing is on a high, with Andrew Nicholson the world No 1 rider, Paget ranked No 3 and coming on the back of the team bronze medal won at the London Olympics last year.
Between Nicholson and Paget, the pair won five of the six global four star rated events in the 2012-13 season.
''We are building towards the world championships (in France next year) and this knocks everybody, not just Jock," Ellis said.
If the B sample proves negative the issue ends and 29-year-old Paget would keep his Burghley title.
After winning Burghley, Paget described Promise as ''an exceptional horse who loves his job. It's taken me a while to work out how to have him prepared correctly for all three days. I think we're getting on to that now."