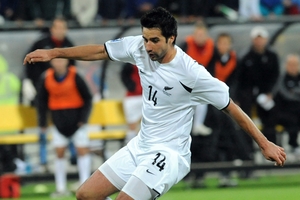 The parallels are noteworthy.
Four years ago, Rory Fallon made his All Whites debut a month before New Zealand's World Cup playoff against Bahrain. It was a debut he didn't think was possible after playing for England at youth level.
This time around, a month out from a likely matchup with Mexico for a spot at next year's World Cup, Fallon has earned a surprise recall to the national side after believing his All Whites career was over.
The 31-year-old last played for New Zealand at last year's ill-fated Oceania Nations Cup campaign in the Solomon Islands but he now looms as a strong possibility to be included in the final squad to play the fourth-placed team from Central and North America for a spot at next year's World Cup. He's tall and strong, so could play as a target man or be used as an option off the bench, and there's a vacancy with Chris Killen out for the rest of the year with an Achilles injury.
"It's a pleasure to be back,'' Fallon said from Port of Spain where the All Whites take on Trinidad and Tobago tomorrow. "I have really missed it. I never thought I would get the opportunity again because it wasn't looking great. It's opened back up again for me and I have taken it with two hands.
"I haven't played for a year and, when you don't play for your national team for a year, you think the worst. I always kept praying on it. I'm just thankful I got the opportunity again. It's a little similar to what happened to me last time but I'm not trying to think too far ahead or your head goes all over the place.''
Fallon famously scored the winner against Bahrain to send the All Whites to the World Cup in South Africa. The route this time will be significantly more difficult, especially if it's against Mexico who play Costa Rica in their final qualifying game tomorrow morning (NZT).
A number of Mexican media watched the All Whites in their 0-0 draw with MLS outfit Chivas on Sunday and there will be more in attendance to watch them play Trinidad and Tobago.
It's an important match for the All Whites, given it is their final hitout before next month's playoffs, and it also carries significance for the home side.
The Soca Warriors are dedicating the match to teammate Akeem Adams, who last month had a heart attack four days after playing for Hungarian club side Ferencvaros. The 22-year-old has since had his leg amputated due to mortification of the limb muscles.
"This match against New Zealand is much more than a friendly,'' defender Sheldon Bateau told the Trinidad Guardian. "We have to give our all and win for our teammate Akeem.''
The All Whites are missing a number of regulars, including Killen, Shane Smeltz, Marco Rojas, Tim Payne and Ben Sigmund and Ivan Vicelich returned home after the Californian leg to rest a hip flexor injury. Jeremy Christie remained in the US because he's applied for a green card but goalkeeper Glen Moss and midfielder Leo Bertos should play after missing the last game with minor injuries.
Left-back Tony Lochhead is understood to have impressed Chivas in the weekend and could return there after tomorrow's game for a week's training.
Fallon is well travelled after more than a decade as a professional and is presently contracted to St Johnstone in the Scottish Premier League. He's not seen as much gametime as he would like but is biding his time.
"It's been quite difficult,'' he said. "Our team has been doing quite well so I have been on the bench. But I am the strongest I have been for a long time. I would like to play a lot more, but the two strikers are doing really well and scoring goals. It's quite difficult to get through but you just have to keep training hard and believe something is going to come through.''
It's served him well at international level.
- APNZ