Australia first, then France, England and Ireland want to show that the mighty All Blacks can be beaten.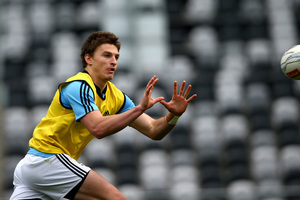 The All Blacks assembled in Dunedin yesterday aware they have now begun the big push to the summit - so to speak.
They want to reach December unbeaten and with daylight between them and the chasing pack. These things matter - a few sides have aspirations to knock the All Blacks off their perch and turn the world order on its head.
The All Black show in 2013 has not been everyone's cup of tea. As much as there is admiration for the way New Zealand have gone about their work this season, there is also a growing sense among their closest rivals that they need to be chopped off at the knees.
The All Blacks appear to have plenty of natural advantages as it is.
Australia this Saturday, then France, England and Ireland in November would all dearly love to land a sucker punch - land a blow for rugby's mortals. None of them, nor Wales, South Africa or Argentina want to reach the end of this year uncertain as to how or whether the All Blacks really can be beaten.
It was a bit different last year. The All Blacks reached this same point of the season unbeaten.
But first Australia managed a draw in Brisbane and then England went ballistic at Twickenham to give certainty that beneath those black jerseys there lay blood and vital organs and not wires and microchips.
The All Blacks don't want to make that same mistake of exposing themselves as fallible. It's about this time - less than two years out - that the big boys start talking and thinking about the World Cup.
It would be a punishing beginning for the likes of Australia and England to begin their respective build-ups on the back of a heavy defeat to the All Blacks.
So the last big push for the All Blacks began in earnest yesterday: they had to get their heads into this week and beyond.
They know that Australia will pitch up under the roof in Dunedin and just about convince themselves that they have the sun on their backs.
Buoyed by a romp against a demoralised and exhausted Pumas side, the Wallabies won't lack for belief. It doesn't take much for Australians to conquer their mental demons.
Israel Folau has become their not so secret weapon. Will Genia can't surely misplace his form for much longer and Michael Hooper will love having another crack against Richie McCaw.
Then there is Quade Cooper. Surely at some point he'll do something other than disintegrate in front of a New Zealand audience?
Defeating the Wallabies will be an altogether trickier business than many are predicting. The All Blacks, as will have been made clear by their senior leaders yesterday, won't achieve a thing if they lose sight of the dangers posed.
New Zealand made the mistake of underestimating Australia this time last year. They know they can't do it again and however much they want to exact revenge for the loss in London, dust off France in Paris and pull Ireland's root out in Dublin, they have to be patient.
The ascent to the summit has to be day-by-day - game-by-game.