Last-minute meltdown leaves NZ empty-handed and upset at manner of loss.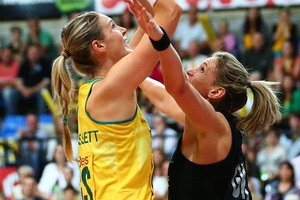 This was beyond disappointment - it was pure despair. Over the past two weeks Silver Ferns' coach Wai Taumaunu has continually found positives in the wake of defeats at the hands of Australia but yesterday's 50-49 Constellation Cup loss in Canberra was a deal breaker.
There were plenty of good moments and strong passages throughout the game but they were all forgotten as the manner of this loss left everyone empty.
The Ferns should have won this match but spluttered badly in the final 90 seconds, to allow Australia to take another buzzer-beating win and the series 4-1.
"This is the most disappointing of the losses, by far," said Taumaunu. "To give up the game like that hurts a lot. It's pretty unacceptable."
Four times in the last two minutes yesterday the Ferns conceded offensive penalties; soft, highly technical calls that are unforgivable at this level. Even worse, twice in the final 60 seconds the Ferns had possession and lost it, as the players seemed to freeze, giving Australia possession and ultimately the match, as Caitlin Bassett shot the winning goal with less than 20 seconds on the clock.
"Over the last few years we have become much better at closing the game out in those situations," said Taumaunu. "It is something that we have worked on a lot ... we should have been able to hold on to [the advantage], no doubt. It's extremely disappointing."
Yesterday's match was a dead rubber, with only pride on the line, but the Diamonds will take vital confidence from the manner of the win, as victors always do after tight contests. The finish to the game bore an eerie resemblance to the world championships final in Singapore two years ago, as the Ferns threw away late opportunities.
Unfortunately two of the main culprits were Cathrine Latu and Shannon Francois, by far the most inexperienced of the Ferns on court, were the prominent guilty parties during the mayhem of the closing stages. "You need to be so disciplined in everything you do in attack and unfortunately we weren't. But they will keep growing," said Taumaunu.
Aside from the final moments, Latu gave a mature display. She regrouped after being penalised early, offered better options for her feeders than in Melbourne and now looks a genuine alternative to Irene van Dyk. Francois, in just her second start, had a tidy, effective match before the last-minute meltdown. Leana de Bruin made a strong return while all of the senior players, and especially Maria Tutaia, were outstanding.
Australia 50
Silver Ferns 49