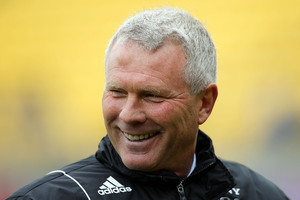 Though it seems Ricki Herbert has taken almost every All White from the past five years to their training camp, only three or four starting spots are up for grabs for the November World Cup play-off in Central America.
On first glance, it seems unusual that the likes of Jeremy Christie, Cole Peverley, Craig Henderson and Aaron Scott are involved less than a month before New Zealand's most important game since the 2010 World Cup.
It's partly due to injuries to key men and also because of the desire to use an expanded squad in this October window.
However, it remains a concern that the squad has not been greatly rejuvenated since 2010, with the likes of Tony Lochhead, Ivan Vicelich and Leo Bertos still frontline contenders in the twilight of their careers.
Glen Moss will start in goal and needs to be wrapped in cotton wool between now and November.
Since the retirement of Mark Paston, there is no keeper with substantial experience behind Moss.
Herbert is almost certain to play three central defenders, with Andrew Durante reprising Ryan Nelsen's role alongside Winston Reid and Tommy Smith.
Lochhead has been unable to find a club since being released by the Wellington Phoenix but he remains the leading contender at left back. Bertos is most likely to fill the defensive role on the right.
Michael McGlinchey is a certainty in midfield, while Shane Smeltz and Chris Wood, providing they recover from injury, will be favoured to start further up the field.
The positions up for grabs seem to be the wide midfield roles, as well as in the middle beside McGlinchey.
The latter looks a straight choice between 37-year-old veteran Vicelich and greenhorns such as Tim Payne and Dan Keat.
Marco Rojas would bring an abundance of skill and flair, allowing the All Whites to take advantage of the precious few opportunities they receive. But Herbert may opt for someone such as Jeremy Brockie, who offers more defensively, leaving Rojas on the bench.
Panama had 10 men behind the ball for much of yesterday's 2-1 loss to Mexico, with only one striker up front.
It offered a preview to what the All Whites will need to do in November - a massive 90-minute defensive assignment, similar to the Rorke's Drift scenario against Italy at the World Cup or the play-off in Manama against Bahrain that preceded it.
If the All Whites can emerge relatively unscathed, the return leg at Westpac Stadium will be an opportunity for Rojas and Kosta Barbarouses to see more game time, as the All Whites should have more attacking opportunities.