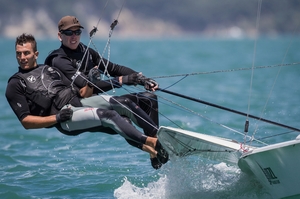 The Olympic podium has always been a logical nursery for great America's Cup sailors.
Look down the honours board of Games medallists in various classes; you find men (often skippers or tacticians) who have supped from the Auld Mug.
Take Dennis Conner, John Bertrand and Sir Russell Coutts from yesteryear; or Sir Ben Ainslie and Tom Slingsby today.
Peter Burling and Blair Tuke (the New Zealand 49er crewmates who earned silver at the London Olympics and gold at this year's world championships) are the latest to harbour ambitions about vying for the oldest trophy in sport.
If their successful habits continue, suitors will presumably seek to lock them into contracts for the next America's Cup. Burling has had a tiller in his hand the majority of his life. He was selected to race the 470 in Beijing aged 17; the youngest member of the New Zealand team.
Now 22, he skippered Emirates Team New Zealand's entry to victory in San Francisco's youth America's Cup. Tuke, who's 18 months older, was his tactician.
The pair sail together but also enjoy each other's company when there are no sails to trim. Fishing is the favourite pastime. They'll also race each other in the A-class catamaran world championships off Takapuna Beach in February to add an element of friendly rivalry.
Their apprenticeship would provide an America's Cup syndicate with a significant human resource.
Team Korea's White Tiger Challenge recognised that when they recruited Burling as skipper in last year's AC45 World Series regatta. Not to be outdone, Tuke was invited by Coutts to join Oracle on work experience after the Olympics. His job involved heading out on the coaching boat which monitored Jimmy Spithill.
"It was an eye-opener to see how an America's Cup team works," Tuke says. "Jimmy is really confident, a hell of an athlete, the first one at the gym in the morning and last to leave."
Tuke is unable to shade in the big picture on his career for now.
"All I know is that gold is up for grabs at Rio. It's hard to look past that because it's one thing we can lock in as a goal.
"Once Oracle declare the boat-type and the timeframes for the next America's Cup, we can decide what to do.
"We've got a good partnership sailing over five and a half years so ideally we'd like to stick together. Hopefully people will approach us after what we've done in the 49er. We've got mates in other teams, so we're on the radar."
Unlike some fans who see those sailing for other America's Cup syndicates as akin to the second coming of Judas Iscariot, Tuke insists on an open mind.
"If the opportunity arose to go to another team, you'd have to look into it. The ultimate would be to bring the cup back to New Zealand but sailing is a professional sport. It'd be lucrative if you want to do it as a career. Sailing with [the youth] ETNZ boat was an amazing opportunity to get an insight."
So does he have Brad Butterworth's sixth sense for wind?
"It's something you get better at. Observing different clouds and puffs on the water are all little things you generate automatically after doing it for years. With catamaran sailing [in the America's Cup], the 49er is also a good boat to come from. Even as a monohull it is on the edge of Olympic-class sailing. It makes the transformation easier.
"We'll see how it evolves. There are other options like the [2014-15] Volvo Ocean Race which I'm keen on. Mum might be a bit gutted, worrying about me going around Cape Horn, but it'd be a great ride - and I don't mind freeze-dried food."
Like Tuke, Burling believes their names have been bandied about in the right circles for a while - but that doesn't guarantee a contract.
"The America's Cup is on the horizon, but we need to keep proving ourselves.
"In the Olympic world if you don't perform, people will ignore you. Victory in the world championships [ahead of Australian Olympic gold medallists Nathan Outteridge and Iain Jensen] is a big step."
Burling loved sailing the America's Cup youth regatta with its consistent wind through an eye of "about 20-30 degrees" in San Francisco Bay.
"You could pick the wind pretty much when you walked out the front door each day. The transition onto the AC45s from the 49er was relatively normal for us with the helmsman and tactician running around."
Burling would settle for any America's Cup team if the circumstances were right, but long-term he'd love to work for a New Zealand-based syndicate.
"Team Korea was a great learning opportunity. I have no regrets. It was a bit odd going against New Zealand. There was no massive downside, but I like the idea of working at home with Team New Zealand."