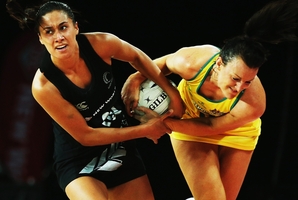 Silver Ferns coach Wai Taumaunu expects that rules changes in netball are on the horizon, in an attempt to blunt the increasingly physical nature of the sport.
Her comments came in the wake of Monday's test in Melbourne, which was a particularly confrontational affair, especially in each goal circle.
The bashing and barging in what is still technically a non-contact sport is hardly new but has intensified in the past few seasons. It feels it has reached the point of no return, with alternate views persisting that either the rules should allow for the full scale steamrolling of players, or for there to be a window left open for grace and guile, subtlety and skill.
"It may not happen immediately but potentially when they next review the rules, [the international federation] will look to make some changes in there," says Taumaunu.
"I don't think the rulebook has evolved with the physicality of the game.
When I was playing [1981-89], the rule was pedantic and there had to be air between players. If the umpires couldn't see air, then they penalised the players and that was the end of the story."
It was a sport where there was a genuine three-foot gap between the player in possession and their marker and contact was often an instant penalty.
"It wasn't very attractive to spectators and so the international board introduced more advantage play in an attempt to be more attractive and understandable to spectators," says Taumaunu.
"On both those counts, they probably succeeded. However, 20 years on, athletes are bigger, stronger, more powerful and faster but the court is still the same size, the number of people in that circle are still the same. A revision is due because of the pure physical ability of the players.
"Twenty years ago, shooters and defenders couldn't do what they do now. You didn't have Casey [Kopua] running around - you had me and much more pedantic umpires."
"Both teams are more than up for a physical battle but it is those not so legal things that are a little bit disappointing," says Ferns vice-captain Laura Langman.
"There are two different defensive styles. As Kiwis, we tend to contest but when we know we are not going to get the ball we will pull out as we don't want to be out of play. [However], it's very clear that the Australian defenders will run all the way to get the ball or disrupt the feed."
The balance used to be almost totally weighted towards the attacker but things have evened out. It's good to have more of a contest but it is in nobody's interests to see the goal shooters and goal attackers getting buffeted from pillar to post.
"There are different ways of adding change to the circle," says Taumaunu. "[It could be] adding a two point shot, taking people out of the circle [or] making the circle bigger. I don't know how it might look but we do need to get away from what has become a really physical battle under the goalpost and try to see if we can add some more skill there. I enjoyed Fast 5 last year and you just couldn't play a physical game under the goalposts, as there was no time."
Meanwhile, the Ferns hope to salvage something from a disappointing tour with the fifth Constellation Cup test in Canberra tomorrow night. Despite losing by a five-goal margin, the game in Melbourne was close.
The performances of Shannon Francois (in her first full game) and Cathrine Latu (just her second full game) were encouraging, as was the ability of Kopua and Katrina Grant to disrupt the Australian ball coming into the circle.