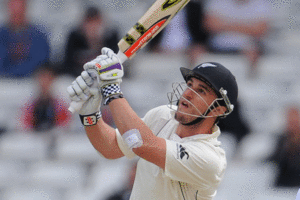 New Zealand 469 & 117-1
Bangladesh 501
Q: In a word, sum up the first test between New Zealand and Bangladesh after the fourth day?
A: Draw
Other four-letter 'd' words might suffice - dull, dire, dead. Regardless of your choice, it will take an extraordinary set of circumstances to extract anything but a drawn verdict on the final day. The more cynical might extend the description to "drawn out".
It must be a candidate for one of the sport's most turgid tests. A couple of Bangladeshi players were even captured yawning when the New Zealanders emerged for their second innings. Would that happen in the Ashes?
When rain ended play in the final session New Zealand had reached 117 for one, a lead of 85 runs, after Bangladesh were dismissed for 501. It was the hosts' highest total at Chittagong.
A placid pitch means both sides have struggled to produce their best cricket with the ball. The New Zealand pace bowlers exerted themselves but got little response from the lifeless soil.
Conversely, batsmen could stand and deliver - it reminded of a traditional sub-continental limited overs surface. Peter Fulton even donned a white floppy hat, for goodness sake, while caps were de rigueur for a number of others.
At least Bangladesh No.8 batsman Sohag Gazi infused a touch of the unexpected with his maiden test century. He made the majority of his 101 not out in a 104-run ninth wicket stand with Robiul Islam (33).
They dispatched the New Zealand attack to all parts, using their feet particularly well to Bruce Martin and Ish Sodhi who were largely ineffectual. Both opted for fuller rather than shorter length deliveries (nothing could be a worse option than bowling short on this wicket) but it meant the Bangladeshis could drive at will.
Matters weren't helped when Martin dropped a caught-and-bowled off Gazi on 65 when Bangladesh were 439 for eight. Doug Bracewell finished with the best figures of three for 96; Trent Boult and debutants Corey Anderson and Ish Sodhi took two each.
Gazi blazed a textbook of shots but was at his best lofting straight; Robiul was robust at the other end. There were a few unsuccessful referral to the third umpire for stumpings.
The pair's records suggest such displays were unexpected. Both players have appeared in six previous tests. Before yesterday Gazi's test average was 13.18 and Robiul's was 10. Take that a step further. Gazi's average was 25.84 in 28 first-class matches; Robiul's was 8.81 in 57.
If nothing else it puts the 127-run 10th-wicket partnership between B-J Watling and Trent Boult into perspective. If you can't bat on this strip, your test future might be limited.
New Zealand conceded 32 runs to Bangladesh on the hosts' first innings of 501. Hamish Rutherford and Peter Fulton acquired some of the best batting practice they'll get outside the nets in a 48-run opening stand. Rutherford was adjudged lbw for 32, trying to work a ball down the legside off fresh bowling change Nasir Hossain in the 16th over.
If Nasir ever contemplates life outside cricket, he could always cut it as a burglar alarm, such were the decibel levels of his appeals. Still, he delivered a tidy spell.
The Otago opener played several well-timed strokes through the covers but it was another abridged innings. Since his century on debut in Dunedin against England he has had 10 innings, six of which have seen him dismissed between 23 and 42. He's struggling to bat time.
Bangladesh started the day at 380 for seven and extended to 491 for eight by lunch to lead by 22 runs - a moral victory of sorts. There appeared to be no genuine bunnies in the hosts' batting line-up and the low, slow wicket allowed them to play without fear of pace.
It was a case of wait for the ball and play it late. It's hard to see today resulting in anything different.