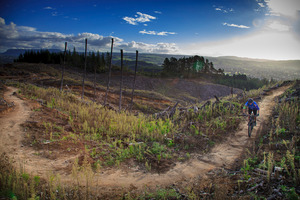 Brian Stewart likes nothing more than soaking up the freedom and thrills of hitting the Whakarewarewa trails on his mountain bike.
The 70-plus-year-old Rotorua local is preparing for the sixth annual Magellan Whaka 100 on October 26. The Whaka is one of New Zealand's toughest mountain bike challenges - an off-road metric century, featuring tricky and technical single-track, massive climbs and fast, rocky fire roads. Stewart loves that challenge.
He says he has no sporting background to speak of. "However, 28 years in the army, followed by participating in various half marathons, means I'm no stranger to the effort required to train for these sorts of activities."
Stewart finished last year's Whaka 100 in an impressive time of nine hours 49 minutes. The retired rider is looking forward to doing it again.
When did you first get into mountain biking?
Spinal surgery meant that running produced too much impact through my spine. I also had prostate cancer. I took up mountain biking in 2006. Riding makes me forget the pain and makes me feel normal for a time. It's the best possible therapy.
What do you enjoy about the sport?
There are many aspects that attract me to mountain biking. It's a long list like getting out into the forest and bush, meeting a wonderful group of people with similar interests and the opportunity to test myself, physically.
What do you enjoy about competing in the Whaka 100?
It has a reputation as an awesome test of a rider. It covers most of the best trails in the Whakarewarewa Forest and includes over 2500m of climbing. The views of forest, lake and rolling hills make the effort well worth it. For those like myself, who participate rather than compete, the sense of having 'knocked the bastard off' is incomparable.
What are the trails like to ride and do you get scared?
For an eternal novice rider like myself, the Whakarewarewa Forest provides an endless supply of trails requiring a wide range of skills. There's always something to aim for depending on your mood - from relaxing and easy to pulse-raising difficult. It's all there in one place. The iwi who own the land, the forestry company that manages it, the tireless efforts of the Rotorua Mountain Bike Club and local enthusiasts working in their own time do a great job to make sure of that. The Whakarewarewa Forest is a wonderful asset and it's a privilege to live near it and have free access to such an inspiring place.
Do your family and friends think you are mad still competing in events like this?
Many of them may not understand my addiction to my chosen sport and treat me with fond indifference when I wax lyrical about my latest ride or a new trail. My participation in the Whaka 100 may simply be beyond the understanding of most of them.
How often do you train or ride your MTB?
Because I'm mostly retired I can ride most days. Twelve weeks before the Whaka, I start a training regime supervised by my friend, Annika Smail, from www.letsride.co.nz. She's a tough but fair coach and I couldn't do this event without her guidance. Training is hard but it's varied and interesting while keeping the fun of riding in focus.
How much longer do you think you will compete and ride?
I refuse to predict a time when I may no longer feel the need to get out there and ride the trails. But if that time comes there'll be a big gap in my life that will be hard to fill.
What advice do you offer to other older athletes looking to stay active?
Anyone who feels they're past mountain biking should give it a go. The rewards are well worth it and you're never too old. Mountain bikers become brothers, and sisters, on bikes. It's about the riding, not how old you are.


Magellan Whaka 100
When: Labour Weekend, Saturday, October 26.
Where: Whakarewarewa Trail Network, Rotorua.
Event Options: Three courses - 25km, 50km and 100km, and a two-person team event with a 60km-40km split.
For more information visit: www.whaka100.com