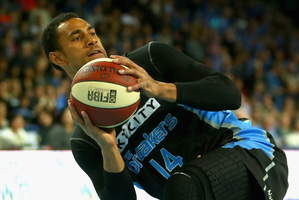 When focusing on who is missing from the Breakers, it can be easy to forget just who remains on their accomplished roster.
While pre-season discussion was dominated by those who had departed the defending champions and how their respective replacements would fare, it was the old guard who carried them to victory on opening night.
Despite there being no Cedric Jackson and no Dillon Boucher, there were no problems for the Breakers as they romped to a 19-point victory over Wollongong on Thursday night at Vector Arena.
And the ease with which they saw off last season's semifinalists - extending their unbeaten home record to a calendar year in the process - was courtesy of a few of the more familiar names among the Breakers' faithful.
Daryl Corletto drained threes, Mika Vukona was a beast under the basket at both ends of the floor, Tom Abercrombie added some aerial plays to his early-season highlight reel.
It could have been any game from the Breakers' last two title-winning seasons.
The routine nature of their triumph would have been a welcome sight for new coach Dean Vickerman who, in matching the spirit of the night, tried to keep the variation to a minimum in his game-day routine.
"I wasn't really that nervous before the game," he said about picking up where Andrej Lemanis left off.
"I kind of did the same thing I did as an assistant coach. I tried to keep busy all day and not take too much time to think about what was going on."
What transpired would have given him no reason to fret about the near future. With Boucher's singlet being raised to the rafters rather than featuring prominently from the floor, and with two new imports making their debuts for the home side, the performance of the returning starters smoothed over any potential cracks.
Corletto, as he so often does, heated up at just the right time, sinking a trio of three-pointers in the second period to help his side haul in the the fast-starting Hawks.
The Australian's minutes may come under threat this season from the rapidly improving Corey Webster but, with the help of his teammates, Corletto proved his undoubted value.
"When Kerron [Johnson] is attacking the way he does and Mika's attacking the way he does, they have to pick and choose who they're going to stop," he said.
"That's what makes us so tough - we don't have one player on our roster who's selfish or cares about their points or how many shots they get.
"We played that Breaker basketball tonight where we had five guys in double figures. No one cares who scores - if it's your turn to go, it's your turn."
Corletto finished with 19 to match Abercrombie, while Vukona, Webster and new point guard Johnson all chimed in with 14.
The scoring spread has been a hallmark of the Breakers' streak of success, and Corletto said little felt different when they got out on the floor.
"Obviously there's some big holes to fill with Cedric and Dillon, but we've got other players now that are filling those roles.
"It's an adjustment period and, once again, it's the recruitment of the players to fit into the culture and the values. I don't think too many things are going to change."
- APNZ