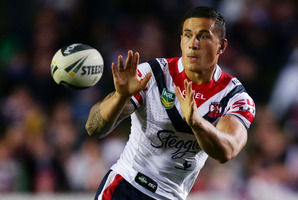 Roosters revelry around their league grand final victory swayed Sonny Bill Williams' decision to rebuff offers to return to the Chiefs' winning Super 15 franchise next season.
However the NZRU and Chiefs believe they remain strong contenders to gain Williams' signature for a two-year package to take in the 2015 World Cup and a possible shot at sevens in the 2016 Olympics.
"We were really disappointed, we thought we might have got Sonny over the line," said Neil Sorensen, NZRU general manager of professional rugby.
Sorensen, Dave Rennie and Wayne Smith spent most of Thursday in discussions in Sydney with Williams and his manager Khoder Nasser. The NZ contingent flew home while Williams went to a meeting with Roosters' management.
About 10am yesterday, after further deliberations Williams told the NZRU he was staying in Sydney next season.
"There were times when you could see Sonny was agonising and wavering about what he was going to do," Sorensen said. "It was a tough decision for a young man.
"There were all sorts of dynamics at play. The size of the deal was not an issue, it was up with making him one of the top earners in New Zealand rugby.
"All the celebrations with the Roosters continued through the week and he also got the award as the club player of the year. It would have been very hard for him to go through all of that and then say, no thanks boys I can't do it again next season.
"The whole thing was a team effort. Khoder was good to deal with, there is no grey in what he discusses."
The NZRU initially offered Williams a three-year deal but are now working through details on their next two-year proposal.
If Williams wants to contest a place in the All Black squad for the 2015 World Cup he will have to sign a Super rugby deal by this time next year to be eligible for test selection the following season.
"My gut feel is that he was so immersed in what was going on in Sydney with the Roosters and their grand final win that he could not leave," Sorensen said.
"Winning the grand final and player of the year did us plenty of harm. There was a lot of euphoric bonding amongst the players and it would have been a huge call for him to say 'see you guys, I'm off' so soon after that victory.
"There is a lot of pressure in Sydney, he has been mates with his new team for 14 months and it was a tough decision. He is a superstar over there, it is unbelievable just to watch the number of people who stopped their cars to yell out or watch him."
The NZRU would take a little time to think through their offer and negotiation strategies before they presented their offer again.
"We'll let things take their course and then get ready to have another go with a two-year offer," Sorensen said.